Hilton have been impressive for the last few seasons in a row. In this their 150th birthday year, their first team has delivered on the promise they showed in the lower age groups. So much so that they are on course to claiming a Top 10 national finish and going unbeaten in KZN. For the latter a few obstacles lie in their way in the coming weeks, beginning with Westville, who have had a pretty decent campaign themselves. This will be followed by an often tricky encounter with Maritzburg College and then Glenwood, who have players at their disposal to do damage to a team that does not bring their A-game.
Westville would have come into this game on a cold wet Gilfillan in the Midlands in local unbeaten shape themselves, had it not been for a last play of the game try by Northwood scrumhalf Gareth Viljoen, to seal a come from behind 27-23 home victory for the Knights. This after the Durban Northers had lost 24-10 to Ville, in the wet away fixture during early April. So a bit of the gloss has been removed off the affair as a potential KZN decider but the defeat may prove to be inspiration to Westville.
Interestingly Westville came unstuck in that Northwood rematch via a scrum 5, which duly earned Northwood a penalty and the platform to go on and win it. There might be a debate about the legitimacy of the penalty but it has provided an interesting theme in recent local matches.
Potentially Hilton overcame their biggest obstacle in the province on Van Heerden's field in Essenwood a few weeks back, when they earned a deserved 24-17 win against in-form Durban High School. That match won't be remembered as a classic, but Hilton structure and game-planning on attack, coupled with organised defence was good when it needed to be. Standing out in their physical pack were the likes of Sharks Craven Week players Ethan Bester (2) and Jack Waterhouse (5). Captain Thomas Dyer is the KZN player of the season for 2022. During the match, his hands were not always as trustworthy as they usually are but he an advantage line bully, that forces defences to over-commit if they want to maintain any hope of containing him. Hilton Craven Week tighthead prop Nick Snyman is another player who can be brutal with ball-in-hand. He is easily one of amongst the best in country in the tight-loose carrying department.
A memorable highlight of the DHS match was the scrum contest where Horseflies had the sort of first half upper-hand that would have the referee awarding them numerous penalties and perhaps going to his pocket had it been senior rugby. Under the circumstances and with the current safety measures in place, the young up-and-coming ref, handled the situation well.
If this Hilton 2022 has an Achilles, then it has to be this scrum setpiece. In all other facets they are solid. Its no longer unusual to rate a Hilton scrumhalf. This year's edition in the form of Craven Week player Christopher Roy generates serious hang-time on his base kicks. Amongst his other assets flyhalf Christopher Horak has this accurate flat-ball pass is able to send rated outside centre Michal de Beer into space, as his timing and strength to get through the holes appear impeccable more often than not.
For this big match, both teams are blessed to be at almost full strength given how numerous other schools around the country are suffering with injuries and sickness. Westville are underdogs though. Their setpieces and ball retention will have to be good to reduce the defensive workload. In their pack they have two players selected for Craven Week – Liyema Ntshanga (1) and Kungawo Mbanga (6). Going forward they will also look to the likes of creative flyhalf Brett Kriegl and nippy x-factor Craven Week back-three Tshegofatso Ramaloko to conjure up something special.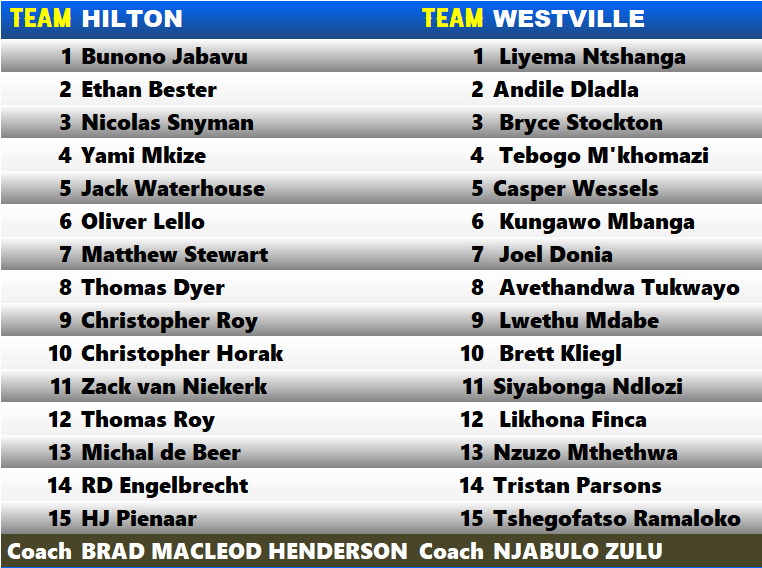 Final score: Hilton 40 Westville 0