old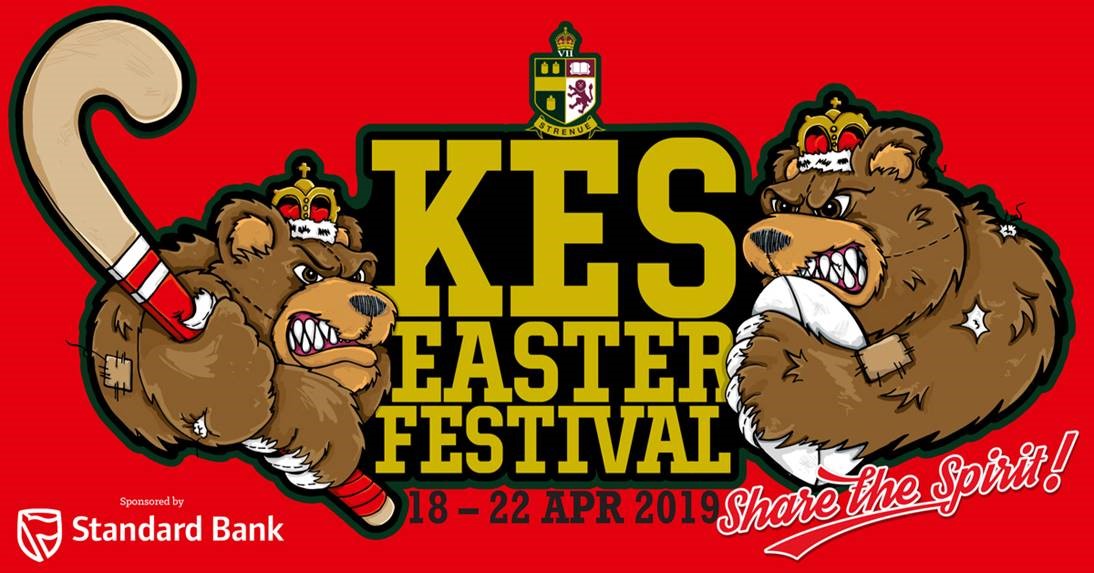 KES – participating 1st XV's for this decade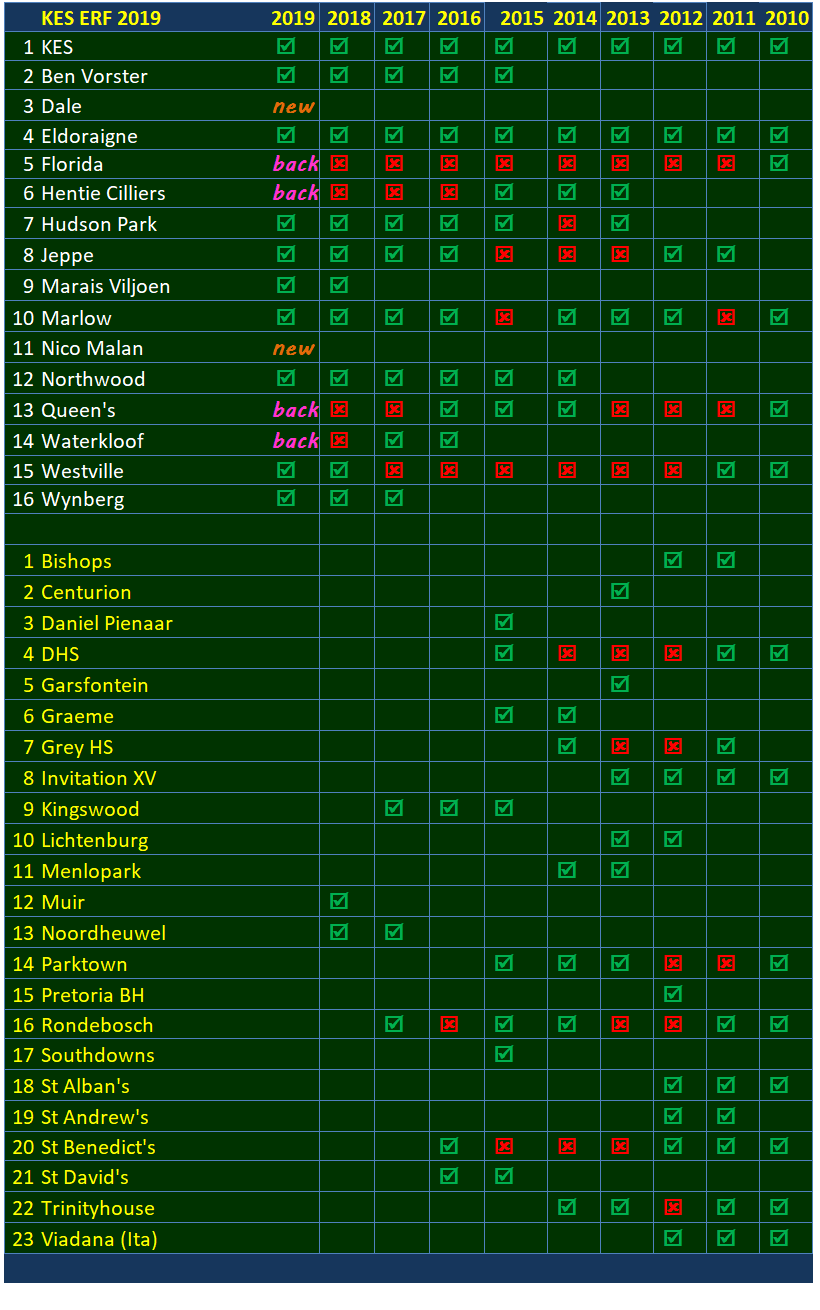 DAY 1 MATCH REPORT compliments of KES
The 17th Standard Bank KES Easter Festival kicked off on Thursday morning under grey skies, but the weather improved as the day went on and the last three games were played in glorious sunshine, with the players producing some sparkling rugby.
The second last encounter of the day, between Hoërskool Ben Vorster and Dale College was the game of the day. It was a 13-try thriller, won in the death by Ben Vorster, 49-46. Dale led 32-14 at the break, but Ben Vorster came out storming after the break and scored three unanswered tries to go into a 39-35 lead with 10 minutes to go.
Dale got the next two tries to go 46-35 up, but Ben Vorster got two more, the last deep into injury time, to snatch the win.
The Ben Vorster forwards were outstanding with ball in hand and, unusually, all seven of their tries were scored by their forwards and flyhalf, WC Kriel converted all seven. Dale's backs were full of tricky running, making for a classic clash of contrasting styles.
Dale centre, Indi Tyeda, contributed 26 points to their total via two tries, two penalties and five conversions.
Earlier in the day, Marlow and Eldoraigne also produced a thriller. It was won 33-31 by Marlow after Eldoraigne led 19-14 at half time. The Eastern Cape side scored again early in the second half to go 26-14 up and the victory looked secure for them, but Eldoraigne mounted a rousing come-back scoring three late tries to snatch the victory.
The two most impressive sides on view were probably Westville Boys' High and Wynberg Boys' High. They were both too strong for their opposition – Nico Malan and Hudson Park, respectively – but they kept their shape and stuck to their patterns and scored some spectacular tries. Westville got six in their 34-0 win over Nico Malan, while Wynberg beat Hudson Park 37-0, scoring seven tries in the process.
The KES X Men – their second team – were matched against Hentie Cilliers, which turned out to be a good fixture decision because it resulted in an attractive game between two sides that were evenly matched for most of the game. KES finished the stronger of the two and won 36-15 in the end.
Durban's Northwood Boys' High came into the festival as one of the fancied sides following a run of good results back in KZN, and they lived up to expectations with a clinical performance against Queens College. They have a big, mobile pack that is going to test the other schools they will be meeting this season. They outscored Queens by seven tries to one, shutting them out in the second half.
Easter has fallen in the middle of term time this year, which has meant that a number of schools opted to play only two games at the festival this year – they play normal fixtures on the Saturdays before and after Easter. So, the match schedule has had to be tweaked and Saturday's programme sees a festival record of eight matches, the first at 7.30am and the last at 5.30pm.
In the process, several schools will make their debut at the festival on Saturday, including Jeppe, who take on Wynberg, Florida Waterkloof and Marais Viljoen.
The King Edward 1st team also make their entrance on day two. They meet Dale in the last game of the day, which is sure be a humdinger. It is preceded by the Jeppe vs Wynberg clash with Westville's second game, against Queens, rounding out an intriguing close to the day.
Northwood's second encounter is against Hentie Cilliers, and it could well be one way traffic.
DAY 2 MATCH REPORT compliments of KES
The Highveld weather had the last say on the second day of the Standard Bank King Edward Easter Festival on Saturday.
The fields were cleared at half time of the game between Jeppe and Wynberg Boys' High when the school's lightning warning sounded. The rain then arrived in earnest, so the Jeppe Wynberg game was abandoned and, after a lengthy wait, the final game of the day, between King Edward and Dale College, called off when the storm refused to move off.
This is a festival, so results are not meant to count for anything so the Jeppe game, even though one half had been completed, will go down as abandoned, with Jeppe 14-11 up at the time.
In games that were completed, Westville Boys' High and Northwood both recorded their second big wins of the weekend.
Northwood beat Hentie Cilliers in a one-sided game that saw them score 10 tries. They led 35-0 at the break – five converted tries – and got another five in the second half, three of them converted. They are one of the schools that were down for two games only, so they go home unbeaten – their best performance at an Easter Festival yet.
Westville will be here on Monday, when they take on the hosts, King Edward, in what is shaping up as what could be the game of the weekend. In their second encounter they beat Queens College 50-12.
The sides were quite evenly matched at first – Westville led 17-5 at the break – but the Durban side ran away with it in the second half, scoring five tries to one. Their impressive flanker, Josh Aigner scored two tries, with the others coming from Ockie Barnard, Mambo Mkhize, Larry Nkonki, Gareth Beavan, Kyle Naude and Liam Botha. Branden Van Wyk converted five of them.
For Queens, Mahela Bamanye and Conley Pieterse dotted down and Mgwigwi LIyema kicked a conversion.
Wynberg started the stronger of the two sides in the Jeppe game and were first on the board via a Devon Pretorius penalty. Jeppe got tries through Kamogelo Tlome and Boitumelo Tsatsane, both converted by Sechaba Mokoena. Wynberg scored a try trhough
In earlier games, Ben Vorster got their second win of the weekend when they beat Hoërskool Florida 43-13. They too go home now, so they keep their unbeaten record intact.
Waterkloof made their debut at the festival on Saturday, beating Hudson Park 36-25. They meet Jeppe on Monday in what will be another highlight of the day.
Marais Viljoen played their first game, beating Marlow 33-24, while Nico Malan took their second heavy defeat, going down 33-6 to Eldoraigne.
With a number of schools going home on Sunday, Monday's programme is an abbreviated one. The Jeppe vs Waterkloof and King Edward vs Westville clashes are likely to be the highlights.
The organisers have tweaked the schedule to give Dale a second game after their game against KES was called off. Nico Malan will play the King Edward second team, the X Men, at 8-15am and Dale will play Marais Viljoen at 9.30. The rest of the programme stays the same.