KERF participation history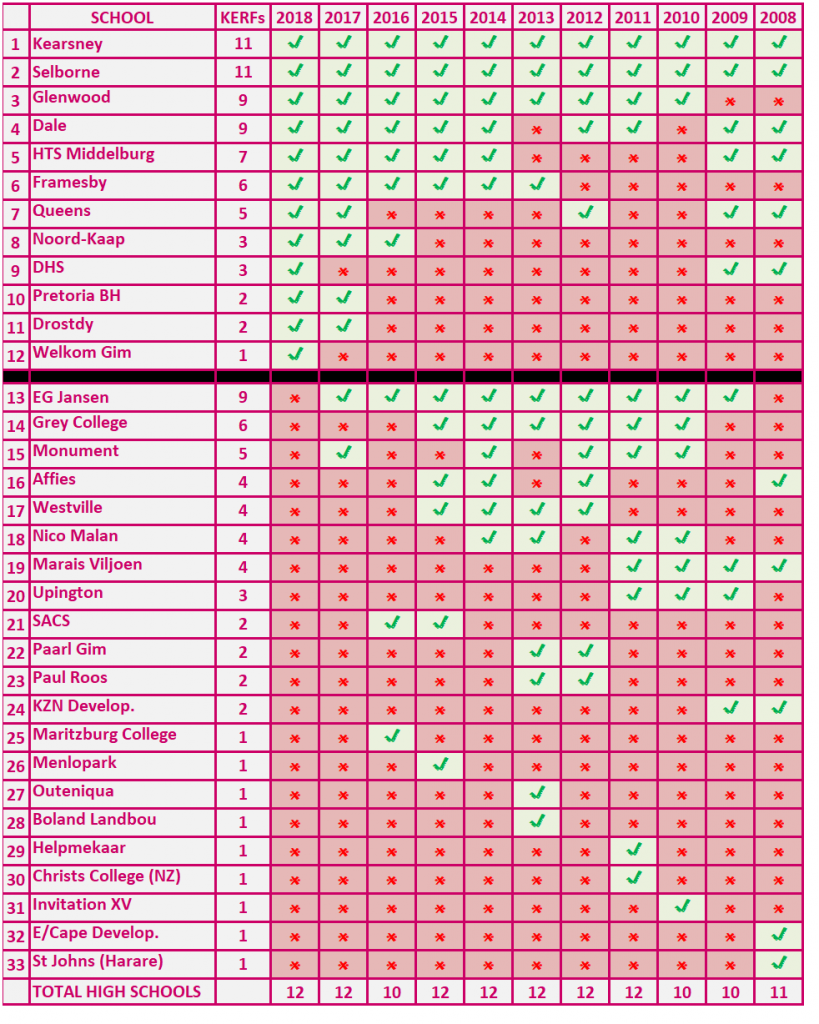 KEARSNEY PRESS RELEASE – WRITTEN BY MIKE HILL
MATCH 1
KEARSNEY COLLEGE – HTS MIDDELBURG
Kearsney College, who traditionally play the opening game of their festival, and visitors HTS Middelburg ran on to the Stott field in ideal conditions for this opening match.
After a jittery start, Kearsney gradually gained the ascendancy with both possession and field position. It took 15 minutes before the first score, after the hosts had crossed the line earlier, but the referee ruled the ball had been held up.
The first try was scored by fullback Jacques Odendaal when he received a short pass from flank Sibusiso Sangweni who had made the break. Taine Muirhead added the two points for a 7-0 lead.
Just five minutes later, after forward pressure in the Middelburg 22m area, a ruck on the try-line was won by Kearsney and the ball slipped over to Odendaal who dived over for his second try and a 12-0 lead.
After two missed penalty conversions, Muirhead added three points on the stroke of half-time for a 15-point lead.
Early in the second half, again after forward possession in the 22m area, hooker Reid Stuart barged over for Kearsney's third try.
The Middelburg forwards began asserting some pressure, resulting in their first try, when wing Quintino October went over. A conversion by Morne Sonnekus narrowed the deficit to 7-20.
A quick tap from a penalty caught Kearsney off guard and the ball was passed through a number of hands to October who jinxed his way through passing to Lenard Olivier who outpaced the defence.
Eighth man Juandre Odendaal crashed over for their third try, sprinting 30m to score near the touchline. A good conversion by Sonnekus narrowed the gap to just four points.
Kearsney appeared to tire as Middelburg got a second wind and, in the final minutes, a handling mistake by Kearsney was pounced on by Middelburg centre Mariano de Villiers who ran 40m to score. Although the conversion went wide, they had won the game 26-25 in a game of two halves.
Point Scorers:
Kearsney: Tries J Odendaal (2), M Pretorius, R Stuart; Conversion T Muirhead; Penalty T Muirhead
HTS Middelburg: Tries Q October, L Olivier, M de Villiers, J Odendaal; Conversions M Sonnekus (3)
MATCH 2
QUEEN'S COLLEGE 14 – 10 PRETORIA BOYS HIGH
With temperatures rising, spectators were already heading for the shade by the second game. The match between Queen's College and Pretoria Boys High never rose to the heights of the first match. The sides were evenly matched and mistakes on attack by both sides resulted in try-scoring opportunities going a-begging.
Minutes after the kick-off Pretoria were awarded a penalty which Justin Cross converted for an early 3-0 lead.
Midway through the first half, Pretoria sustained pressure by the forwards, and the ball was moved through a number of hands to hooker Richard da Costa. This time there was no mishandling, enabling Boys High to take an 8-0 lead which they held until the half-time break.
A break-away by Queen's centre Siya Tyulu handed the ball to flyhalf Sinethemab Tshunu. There was good support by centre Enrique Oranje who received the pass, before he dived over in the corner.
Queen's maintained their resurgence and another good handling movement resulted in Tyulu diving over in the right-hand corner to give them a 10-8 lead.
With five minutes remaining, Boys High were awarded a penalty over 40m out and Cross was able to put his team into a one-point lead.
Two minutes later a mistake in the defence by Queen's led to another penalty just in front of the posts. Cross had an easy kick to increase the lead to 14-10.
Point Scorers:
Queen's College: Tries E Oranje, S Tyulu
Pretoria Boys High: Tries R da Costa; Penalties J Cross (3)
MATCH 3
GLENWOOD 29 – 26 HTS DROSTDY
The third match was expected to be closely contested between Glenwood and HTS Drostdy, two of the highest ranked sides at the festival. It did not disappoint with play moving from one end to the other.
Although the half-time score was 19-7 it could easily have been closer as Drostdy had their chances, but good Glenwood defence prevented them scoring more than a single try in the first half.
Glenwood opened the scoring when Drostdy, with the ball in hand, made a mistake and it was capitalised on by centre Conan le Fleur, the Glenwood SA schools' player, who ran 20m to score. Their second SA schools' player, Jayden Hendrinkse, added the extra points for a 7-0 lead.
Fullback Joe Jonas completed a good handling movement when he dived over in the corner for a 12-0 lead. Drostdy had also looked dangerous with the ball in hand but mistakes cost them dearly.
A little stab through resulted in a Drostdy line-out 5m out. The ensuing maul was controlled well by Drostdy and their eighth man CJ van Rensburg fell on the ball for a five-pointer. Cohen Jasper converted to leave the score 7-12.
Just on half-time Hendrikse forced his way over and, with his conversion successful, took Glenwood into halftime with a 19-7 lead.
Drostdy were the first to score in the second half after a successful box kick was gathered by wing Adrian Maans who showed good pace down the touchline to dot down in the corner, thereby narrowing the gap to 12-19.
Glenwood were not finished winning good ball from a ruck and it was spread to the left. Good inter-passing down the left flank ended in Hendrickse's hands. He cut inside to score under the poles, giving himself an easy conversion and extend the lead to 26-12.
Going into the last quarter, Glenwood were awarded another penalty at a ruck which Hendrikse converted. Drostdy again had chances but poor passing and handling prevented them getting over the line until six minutes from the end; where they did get their movement with a five-pointer, converted by Jasper, to narrow the lead to 10 points.
A good long pass to Jasper on the right end in a consolation converted try in the final seconds of the game, leaving the score 29-26 in a fine game of top schoolboy rugby.
Point Scorers:
Glenwood: Tries J Jonas, C de Fleur, J Hendrikse (2); Conversions J Hendrikse (3); Penalties J Hendrikse
HTS Drostdy: Tries C Jasper, A Maans, CJ van Rensburg (2); Conversions C Jasper (3)
MATCH 4
DALE COLLEGE 5 – 15 HOERSKOOL FRAMESBY
Two Eastern Cape schools Dale College and Hoerskool Framesby faced each other in the fourth game of the 11th Standard Bank Kearsney Easter Rugby Festival.
An almost score-less first half, where neither school gained dominance, had most of the rugby being played between the two 22m areas.
When Framesby looked as if they were gaining some dominance in possession, it was Dale with a kick ahead on the halftime whistle that led to the first points. Fullback Emile Matsinya chased, getting his hand on the ball before the Framesby defence for the try and a 50-0 lead at halftime.
The game livened up in the second half when Framesby scored twice in the third quarter. The first was by forward Rikus Smith after a ruck, and the second by wing Luan Ras after inter-passing between Ras and Sebastian Brand as they ran 50m down the left touch line, beating the defence with good passing.
Framesby scored their third try from a maul following a lineout after a long kick downfield which found touch just in front of the corner flag. Flank De Wet Erasmus came up with the ball after the rolling maul. The conversion was again wide but their lead had increased to 15-5 which remained as such to the end.
Point Scorers:
Dale College: Try E Matsinya
Framesby: Tries J Draai, R Smith, D Erasmus
MATCH 5
SELBORNE COLLEGE 13 – 16 DURBAN HIGH SCHOOL
The penultimate match of the first day saw the breeze strengthening, clouds coming in and a welcome drop in the temperature. Durban High School (DHS) and Selborne College from East London met in a dual of thrusts and parries.
It took sometime before the first points were scored, with DHS wing Malusi Ntuli converting a penalty. Selborne flyhalf Thomas Bursey replied a few minutes later and the score remained 3-all until DHS scored a try just into the second quarter. A cross-kick to the left saw two DHS players almost gather the ball, but the favourable bounce ensured centre Darren Booysen first to the ball for a try.
DHS, with an 8-3 lead, then increased it to 11-3 when Ntuli added his second penalty just before the break.
Ten minutes into the second half DHS front row forward Marcel Nel went over following a ruck. Again, the conversion went wide but the lead had increased to 13 points.
Selborne at last managed passes without mistakes, to send centre Likhaya Tengimfene over in the corner. This brought Selborne to 8-16 but they were playing with greater intent.
They camped in the DHS half for 10 minutes but were unable to make it count. Just three minutes from the end, Selborne prop forward Jacques Goosen barged, over but an easy conversion was missed.
DHS held on for a 16-13 lead in an exciting finish with Selborne striving for a win.
Point Scorers:
Selborne College: Try C Tengimfene, J Goosen; Conversion T Bursey
DHS: Tries D Booysen, M Nel; Conversions M Ntuli (2)
MATCH 6
WELKOM GIMNASIUM 28 – 3 HOERSKOOL NOORD-KAAP
The final match of the day at Kearsney, between Noord-Kaap and Welkom Gimnasium, was full of movement and greater continuity than the two previous matches, adding to the enjoyment of the spectators.
Noord-Kaap were attacking when an error enabled Welkom to move the ball from the in-goal area. Two passes out to the right found wing Apla de Kock, who made 60m down the right touchline before passing inside. Left wing Marno April needed a 30m sprint to score under the poles for the try of the day. The conversion by FC du Plessis was successful for the Eastern Free State visitors to lead 7-0.
They continued to out-muscle and out-pace Noord-Kaap and another midfield mistake by Noord-Kaap was picked up by lock Husayn Banzi who drove his way 50m to the try-line, handing off three attempted tackles. Another successful two points by Du Plessis put them 14-0 in front.
Noord-Kaap managed to get on the scoreboard with a long-range penalty by Seanriq Daniels. This was followed immediately by a try after a 50m run by right wing De Kock for his second and a 21-3 lead going into the break.
There was no let up by Welkom in the second half and they continued to dominate. A missed attempted clearance by a Noord-Kaap kick was spread left across the field finding April who evaded two tackles and side-stepped his way past the final defence to score. Again, the conversion successful, to put them 28-3 ahead.
Noord-Kaap had their most successful period of the game going into the last quarter when they spent 10 minutes in the Welkom 22m area. However, good defence by Welkom kept them at bay.
Thereafter both sides were unable to add to the 28-3 score; and so ended a successful first day at the festival. 
Point Scorers:
Welkom Gimnasium: Tries A de Kock, M April (2), H Banzi; Conversions FC du Plessis (4)
Hoerskool Noord-Kaap: Penalty S Daniels
MATCH DAY 2
GAME 1
HOERSKOOL FRAMESBY 13 – 10 PRETORIA BOYS HIGH
In contrast to the heat of the first day of the festival, Day 2 started with mist rolling in over the Stott field. The first half, between Pretoria Boys and Hoerskool Framesby who had both won their fixtures on Thursday, was played largely between the two 22m areas.
There appeared no game breakers in either side, so good defence prevented players breaking away. It was 13 minutes before Pretoria broke through into the Framesby 22m area, but they were thwarted from scoring.
At half-time Framesby led 6-3 after two well-struck penalties by fullback Peter Scholtz, to one by Pretoria's fullback Justin Cross, the latter just on half-time.
The game livened up when Pretoria flyhalf Dylan Thompson ghosted through a gap, sprinting to score the first try of the game. This was converted, again by Cross, for a 10-6 lead.
Framesby forwards powered their way to the Pretoria line and, with some pick and go, keeping the ball in hand, prop Morne Prince forced his way over. The conversion was taken by Andre Gerber to put the Eastern Cape side back into a 13-10 lead.
Light drizzle made the ball slippery, but Framesby managed to hold on to their narrow three-point lead in an evenly contested and exciting contest.
Point scorers:
Hoërskool Framesby: Try Morne Prince; Conversion Andre Gerber; Penalties Peter Scholtz (2)Pretoria Boys High: Try Dylan Thompson; Conversion Justin Cross; Penalty Justin Cross
GAME 2
DURBAN HIGH SCHOOL 24 – 7 QUEEN'S COLLEGE
With the mist thickening, much of the game between Durban High School (DHS) and Queen's College was played with spectators struggling to see across the field. Despite the wet conditions, handling on both sides was good.
It was Queen's who dominated the first quarter and they were rewarded with a try when scrumhalf Aviwe Kanuka broke from a scrum, passing to his flyhalf Sinethemba Tshunungwa, who broke through several tackles to score close to the uprights. Kanuka added the points for a 7-0 lead.
DHS, who had missed one penalty at the posts when it hit the upright, then converted from closer to the touchline and Shakur la Douce opened their points to trail 3-7.
Both sides had further opportunities, but it was not until a few minutes from half-time that a Queen's player lost the ball in a ruck close to the goal line, and DHS flank Asande Mnguni toed the ball forward and fell on it over the goal-line for a 5-pointer. It was well covered by La Douce to take DHS into a 10-7 lead at the break.
The mist thickened even further and it became difficult even to see halfway across the field. Going into the last quarter with 14 players after a yellow card, DHS won ball, swung it to the right with scrumhalf Jaydian Cedares running wide and an inside pass to fullback McNeil Jenner who went over for a try. This was again converted by La Douce for a 17-7 lead.
With just three minutes remaining in the game, DHS, with some enterprising passing, moved down the left for hooker Stoney Stenekamp to score a try in the corner. La Douce again slotted the kick for DHS to win 24-7.
Point scorers:
DHS: Tries Asande Mnguni, McNeil Jenner, Stoney Stenekamp; Conversions Shakur la Douce (3); Penalty Shakur la Douce
Queen's: Try Sinethemba Tshunungwa; Conversion Aviwe Kanuka
GAME 3
KEARSNEY 20 – 11 NOORD-KAAP 
With slightly more visibility, the third match of the day between home side Kearsney College and Hoerskool Noord-Kaap was another closely contested game.
Kearsney opened the scoring after 12 minutes when some sustained pressure saw flyhalf Taine Muirhead pop a pass to fullback and KZN u19 Sevens player Jacques Odendaal to dummy and go over in the corner, giving the hosts a 5-0 lead.
Noord-Kaap equalised a short while later when their livewire scrumhalf Craig Ockhuis broke from the base of the scrum to dive over for an unconverted try.
Kearsney went into an 8-5 lead which they held until the break, when Odendaal converted a penalty.
During the second half the mist thickened and swirled again. Despite the wet conditions, handling by both teams was good and some enterprising backline movements were enjoyed by the crowd.
Kimberley player DS van Niekerk converted a penalty to level the scores at 8-all.
The home side took the lead again to 13-8, when hooker Reid Stuart scored after a ruck.
Noord-Kaap again narrowed the gap when Van Niekerk kicked a long-range penalty, but it was Kearsney who were dominating the forward exchanges and winning greater possession.   They were rewarded when Odendaal sent a long pass out to the left, finding eighth man and captain Andrew Harding unmarked. Harding obliged by running 10m to score in the corner. This time Odendaal split the uprights with a good kick to take a 20-11 lead, which they held to the final whistle.
Point scorers:
Kearsney: Tries Jacques Odendaal, Reid Stuart, Andrew Harding; Conversion Jacques Odendaal; Penalty Jacques Odendaal
Noord-Kaap: Try Craig Ockhuis; Penalties DS van Niekerk (2)
GAME 4
GLENWOOD 39 – 0 DALE COLLEGE
Glenwood came into this match against Dale College as favourites, but Dale can hold their heads high as in the first half they played the typical Dalian way.
They tackled and, with ball in hand, made metres; but it was Glenwood's SA schools player and scrumhalf Jaden Hendrikse who was their general. His passing, his relieving kicks and general management on the field held Dale at bay.
Hendrikse's long range penalties and the conversion of lock Lunga Ncube's try gave Glenwood a 13-0 lead. It was only in the final 10 minutes of the first half that they increased their halftime lead to 25-0.
With Dale on attack, a dropped ball was picked up by Glenwood. Straight running, with support on either side of the ball carrier, Hendrikse was the final recipient. He sprinted the final 20m to score, but this time missed a relatively easy conversion.
On the stroke of halftime, hooker Jhaques Thyssen powered over from a ruck following a lineout. This time Hendrikse added the extra points for their 25-point lead.
It took Glenwood another 14 minutes into the second half to score their next points. They came from a solo effort by eighth man Freddie Slabbert who jinxed his way through the Dale players to score from 40m out, giving Hendrikse an easy conversion and the team a 32-0 lead.
Just two minutes later Glenwood were on attack again and this time the ball was spread rapidly through the hands from right to left, where wing Aaron le Roux completed the move for a try in the corner. Hendrikse again added the extra points with a pinpoint conversion, giving Glenwood a 39-point lead.
In the final few minutes Dale gave of their best, but Glenwood prevented them making any progress. The final whistle and a score of 39-0 showed the dominance of Glenwood. Dale, however, played far better rugby than they had on the first day against Framesby.
Point scorers:
Glenwood: Tries Jayden Hendrikse, Lunga Ncube, Jhaques Thyssen, Aaron le Roux, Freddie Slabbert; Conversions Jayden Hendrikse (4); Penalties Jayden Hendrikse (2)
GAME 5
HTS DROSTDY 22 – 14 WELKOM GIMNASIUM
With the weather closing in again, conditions became more difficult. The match between HTS Drostdy and Welkom Gimnasium was expected to be the match of the day, but the game did not rise to expectations, as it was only later in the second half that greater continuity in play ensued.
Drostdy spent the first 10 minutes of the game in Welkom's half of the field and eventually the pressure paid when SA u19 Sevens player Christie Grobbelaar broke through for the first try of the game. This was converted by Shaun Baxter for a 7-0 lead.
Welkom had their chances but could not get through and it was a penalty by flyhalf Ryan Davids that narrowed the deficit to 7-3. A further two penalties were traded to leave the halftime score 10-6 in favour of Drostdy.
Conditions deteriorated further in the second half with both sides making valiant attempts to score. Midway through the half, Drostdy livened up proceedings with a breakaway, but good defence from Welkom stopped them on the try-line.
A second try was scored by Drostdy when lock Andre Nel scored in the corner after a surge downfield to give Drostdy a 15-6 lead.
Welkom hit back almost immediately and it was wing Apla de Kock that beat a number of tackles to score an unconverted try, narrowing the gap to 11-15. Davids converted another penalty with four minutes remaining to make it a one-point lead to Drostdy.
Drostdy fought back and it was flank Benicio Kamfer who received the pass on the right wing, evaded a tackle and when brought down just short, stretched an arm to score. This was well converted by Baxter for a good 22-14 win.
Point scorers:
Drostdy: Tries Christie Grobbelaar, Andre Nel, Benicio Kamfer; Conversions Shaun Baxter (2); Penalty Shaun Baxter
Welkom Gim: Try Apla de Kock; Penalties Ryan Davids (3)
GAME 6
SELBORNE COLEGE 33 – 19 HTS MIDDELBURG
The final game of the second day of the Standard Bank Kearsney Easter Rugby Festival saw Selborne College take on HTS Middelburg. The plattelanders played in conditions that they were not familiar with and it was Selborne that dominated with the ball in hand and territorially.
It took Selborne just a few minutes to open the scoring when centre Mnombo Zwelendaba broke through the defence to give Thomas Bursey an easy conversion and a 7-0 lead. Bursey added a penalty shortly after to increase the lead to 10-0.
After spending most of the time in the Middelburg half, a forward move saw prop Nolan Kemp burst over the line for a try. This time the conversion went wide. A minute later centre, Sibabalwe Xamlashe stepped through a gap passing to the supporting lock, Dean Stokes, who powered over the line. This time Bursey converted. The lead was extended to 27-0 when Zwelendaba scored his second try.
Middelburg played their best rugby of the half in the last few minutes after two attacks on the Selborne line being stopped just short. This left the half time score at 27-0.
Early in the second half Bursey converted a penalty to increase the score to 30-0. Middelburg were playing with more intensity following the break and a good 70m run down the left touchline by Leonard Olivier saw him scoring under the posts for Morne Sonnekus to convert.
Bursey added a long range penalty to increase the score to 33-7. With 14 minutes left on the clock.
With just five minutes remaining Middelburg had another good period of play, putting pressure on Selborne and keeping them pinned in their 22m area. This resulted in a try by centre Joubert Willers with Sonnekus converting – 14 points to Middelburg in the second half.
With time up on the clock, Selborne were attacking, but a mistake allowed Middelburg to counter with a kick ahead and a chase. Quintino October got to the ball first and dotted down for a try which narrowed Selborne's lead to 33-19. 
Point scorers:
Selborne: Tries Mnombo Zwelendaba (2), Nolan Kemp, Dean Stokes; Conversions Thomas Bursey (2); Penalties Thomas Bursey (2)
Middelburg: Tries Lenard Olivier, Joubert Willers, Quintino October; Conversions Morne Sonnekus (2)
DAY 3
GAME 1
GLENWOOD HIGH SCHOOL 24 – 10 WELKOM GIMNASIUM 
The final day of the Standard Bank Kearsney Easter Rugby Festival opened with two sides in the top four of the games thus far. Glenwood, undoubtedly the top team of the festival, and Welkom Gimnasium, making their debut at this 11th annual festival. Despite having lost against HTS Drostdy on Saturday, Welkom was one of the better sides at the festival.
It took Glenwood just four minutes to open the scoring when centre Bani Holtshauzen broke through, rounded the defence, scoring behind the poles. Dylan Pretorius converted for a 7-0 lead.
This caused Welkom to up their game and they kept Glenwood in their own half for the middle of the half. One penalty attempt hit the upright and a second penalty a few minutes later from 42m was converted by flyhalf Ryan Davids. They did reach the red zone, but Glenwood defences held and in the last five minutes of the half, Glenwood's Pretorius added three points to make the score 10-3.
Glenwood then almost scored and from the 5m scrum the ball was moved quickly and flyhalf Pretorius made a break. With two defenders on his back, he forced his way over between the uprights, to make his conversion an easy kick and a 17-3 half-time lead.
Ten minutes into the second half, after some to and fro play, a 5m scrum after Glenwood had been awarded a penalty resulted in scrumhalf Joe Jonas diving over. Well converted by Pretorius, this extended the Glenwood lead to 24-3.
Glenwood had dominated and appeared to take their foot off the pedal as the game stuttered for the remainder of the half.
With all the Glenwood reserves playing, ahead of the team travelling to the international tournament at the Paarl Boys High 150th celebration, they were content to see off play. But it was a steal by Welkom in their own 5m area, and a kick ahead by Marno April, that resulted in him scoring the final try. This was converted by Davids, to make the final score 24-10 to Glenwood, for the Green Machine to end the festival unbeaten.
Point scorers:
Glenwood: Tries Bani Holtshauzen, Dylan Pretorius, Joe Jonas; Conversions Dylan Pretorius (3); Penalty Dylan Pretorius
Welkom: Tries Marno April; Conversion Ryan Davids; Penalty Ryan Davids
GAME 2
HOERSKOOL NOORD-KAAP 8 – 30 HOERSKOOL FRAMESBY
On a beautifully warm day, the second match was between Port Elizabeth's Hoerskool Framesby, who had won both their prior matches, and Hoerskool Noord-Kaap from Kimberley, who had yet to win a game.
Framesby had the heavier forwards and they were more dominant in the broken phases of play. Noord-Kaap was left to largely feed on scraps.
Two tries were scored by Framesby, the first by flyhalf Juandre Liebenberg and the second by centre Sebastian Brandt, after a favourable bounce. The first was converted by Liebenberg put them 12-0 ahead.
Both sides then traded penalties, Liebenberg for Framesby and DS van Niekerk for Noord-Kaap, to leave Framesby 15-3 ahead. After some forward dominance, centre Brandt went over for his second try.
On the half-time whistle, Noord-Kaap managed to put some passes together which gave centre Tiaan Swanepoel some space, and he outpaced the defence to score the try of the game. It left an 8-20 score-line going into the break.
The second half was evenly contested until a few minutes from the end. A possible try by Noord-Kaap centre Elzandro Fredericks after a 70m sprint was nullified after a call by the assistance referee for an illegal tackle.
This gave Framesby a second wind and they attacked, resulting in centre Brandt breaking. He was tackled on the try-line, but supporting flank Christo Grobler was on hand to dot down, resulting in a 30-8 lead and final score to win.
Framesby will return home having won all three of their matches the festival. Noord-Kaap will rue their handling and passing which ultimately cost them their three games.
Point scorers:
Framesby: Tries Juandre Liebenberg, Sebastian Brandt (2), Christo Grobler, Monray Potgieter; Conversion Juandre Liebenberg; Penalty Juandre Liebenberg
Noord-Kaap: Tries Tiaan Swanepoel; Penalty DS van Niekerk
GAME 3
HTS MIDDELBURG 35 – 17 QUEEN'S COLLEGE 
It was an entertaining first half in the third match between HTS Middelburg and Queen's College. The latter had lost both their games, whilst Middelburg had a narrow one-point win against Kearsney in their first match.
Middelburg were the dominant side for the first quarter and went into a 7-0 lead after a good driving try by eighth man Juandre Odendaal, converted by Morne Sonnekus.
The second quarter saw Queen's becoming more confident with the ball in hand and they managed two tries to lead 12-7 at the break. The first after Siya Tyulu passed out to flank Chumani Gatyeni. Tyulu was again the play maker for the second try, this time passing inside to wing Liyabona Maku who dived over. It was converted by Aviwe Kanuka for their 12 points.
Middelburg regrouped at the break and came out looking the better team. They made less mistakes, dominating loose play. Three tries were scored, two from Queen's mistakes – the first after a good line movement when Odendaal scored his second break through two tackles.
The second came from a lineout with Queen's not gathering, and hooker Edwin Till was first to the ball.   The third was when Odendaal scored his hat-trick with a bullocking run from a Queen's handling mistake. Two were converted by Sonnekus to give them a 31-12 lead. The final try by Middelburg was scored by flank Franco Fourie after a long overhead pass.
Queen's had the last run of play when Odwa Mfeka ran down the middle of the field to score and bring them to a respectable 17-35 loss after an entertaining game.
Point scorers:
Middelburg: Tries Juandre Odendaal (3), Edwin Till, Franco Fourie; Conversions Morne Sonnekus (5)
Queen's: Tries Liyabona Maku, Chumani Gatyeni, Odwa Mfeka; Conversion Aviwe Kanuka
GAME 4
DHS 39 – 0 DALE COLLEGE 
In the fifth match of the final day, unbeaten DHS faced Dale College who had lost both their earlier festival games. It was the KZN side which dominated the first 10 minutes with a penalty by Shakur la Douce, and then a converted try after Dale had passed back and had to dot down for DHS to have a 5m scrum.
From an ensuing ruck, prop Mthokozisi Gumede found is way over with La Douce adding the extra points, to take a 10-0 lead.
Dale were struggling to keep ball in hand and, with a brisk breeze behind DHS, they kept Dale in their own half. The Border team did have the occasional visit to the DHS 22m area, but their handling let them down.
In the second quarter it was DHS who scored a further three times. Lock Setjhaba Mathuse, after inter-passing among the forwards scored first; then it was centre McNeil Jenner who finished a move started by Zethembe Mbonambi after a favourable bounce. In the final minutes of the half their SA schools loose forward Celimpilo Gumede ran through a tackle to score, this time converted by La Douce, for a 23-0 lead at the break.
Dale improved their play but again lost ground when passes did not go to hand. With the wind direction across field they did not get much advantage from that. It was DHS with a kick ahead, a favourable bounce and Gumede was first to dot down. La Douce converted and DHS had increased their lead to 34-0.
With just over two minutes remaining, DHS had a good passing movement down the field and fullback La Douce was on hand to dive over for their last try and a 39-0 win.
Although this was a game where DHS dominated, Dale did not take their chances and could not hold their passes.
Point scorers:
DHS: Celimpilo Gumede (2), McNeil Jenner, Shakur La Douce, Cetjhaba Mathuse, Mthokozisi Gumede; Conversions Shakur La Douce (3); Penalty Shakur La Douce
GAME 5
DROSTDY 29 – 26 SELBORNE COLLEGE 
The penultimate festival match, between Selborne College and HTS Drostdy, saw the East London side dominating position for the first 20 minutes. The Worcester team struggled to get their hands on the ball and, when they did, they were cut down.
Selborne went into an early 10-0 lead following a penalty by Thomas Bursey, followed by a try scored by centre Sibabalwe Xamlashe, converted by Bursey.
A second penalty by Bursey, followed by a strong run by prop Shakeel Naidoo, again converted by Bursey, left Selborne well in control and looking comfortable with a 20-point lead.
Drostdy gradually began winning more ball and with this became far more competitive. Their first try came five and a half minutes from the break, when flank Heinrich Naude scored following a lineout. Just two minutes later, Naude scored his second try after some good inter-passing. This was converted by Shaun Baxter for the deficit to be cut to eight points and a Selborne 20-12 lead at the break.
Bursey increased Selborne's lead with his third penalty, but it was Drostdy who were looking the stronger. A yellow card for a high tackle saw Drostdy opting for a lineout rather than three points. The subsequent rolling maul found hooker Stefan Schwartz in possession to score as they crossed the try-line.
Another penalty conversion by Bursey took Selborne to 26-17 ahead. Just going into the fourth quarter Drostdy moved down the left and fullback Cohen Jasper scored a good try in the corner. This was well converted by Baxter to narrow the gap to 24-26.
The game really came alight in the last 10 minutes with both sides striving to score. Two chances by Drostdy went a-begging. Then, in the last seconds after setting up a line-out, driving and moving the ball, wing Keane Gelant was found unmarked on the left. Selborne managed to stop him but from the ruck centre Keane Gelant forced his way over in a mass of bodies, to give Drostdy a 29-26 win in an extremely exciting and excellent game of rugby.
Point scorers:
Drostdy: Tries Cohen Jasper, Heinrich Naude (2), Stefan Schwartz, Keane Gelant; Conversions Shaun Baxter (2)
Selborne: Tries Sibabalwe Xamlashe, Shakeel Naidoo; Conversions Thomas Bursey (2); Penalties Thomas Bursey (4)
GAME 6
KEARSNEY COLLEGE 40 – 33 PRETORIA BOYS HIGH 
The closing match between hosts Kearsney and Pretoria Boys High was a high scoring game with 11 tries. Both teams had won one match and lost the other, so there was an incentive to win their second game at the festival.
After early pressure by Boys High, it was Kearsney who opened the scoring when hooker Reid Stuart dived on to the ball after some jittery handling by Pretoria. This was well converted by fullback Jacques Odendaal for the 7-point lead.
Kearsney were arguably having the better possession and their second try came at the end of the first quarter when flank Taine Polzi dived over.
Pretoria, who had got close but the defence held, had an intercept with Kearsney on attack and flank Kgala Mothomogolo ran 40m to score under the uprights, converted by Justin Cross for their 7 points.
Almost immediately Kearsney struck back when centre Derick Marshall used his strength to burst through and add another 7 points. With Odendaal's conversion, they had a lead of 19-7 at the break.
Early in the second half wing Christo Scheepers dotted down, again well converted by Odendaal to extend the lead to 26-7. Pretoria struck back as centre Sithembiso Motlaletsa got through for a try in the left corner. Cross kicked a good conversion to increase their score to 14 and reduce the lead to 12 points.
With 16 minutes remaining Boys High again pressurised the Kearsney line and scrumhalf Aiden Olivier scored in the same corner. Cross converted again to bring the scores closer at 19-26.
The tension was mounting and the home crowd cheered loudly when Kearsney were awarded a penalty 30m out. However, Odendaal just didn't curve the ball enough for the three points.
There was relief for the home supporters though, when a good line movement, with Odendaal making a break, dummying and passing to Taine Muirhead, who rounded the defence to score under the crossbar. Odendaal added the extra points and Kearsney led 33-19 with six minutes remaining.
The game was not over and Boys High came back with a try by Kgala Mothomogolo well converted by Cross, making the score 33-26.
Kearsney again replied when they moved the ball quickly to centre Phoka Mchunu who went through a gap. Odendaal added the extra for a 40-26 lead.
Reinhardt Nel completed the scoring with a try in the last second, again converted by Cross and a final score of 40-33, which included 11 tries in the exciting game, a fitting end to the 11th Standard Bank Kearsney Easter Rugby Festival.
Point scorers:
Kearsney: Tries Reid Stuart, Taine Polzi, Christo Scheepers, Derick Marshall, Taine Muirhead, Phoka Mchunu; Conversions Jacques Odendaal (5)
Pretoria: Tries Sithembiso Motkletsa, Aiden Olivier, Kgala Mothomogolo (2), Reinhardt Nel; Conversions Justin Cross (4)