There are two bit of interesting news surrounding the Kearsney Easter Rugby Festival (KERF) 2023.
Firstly Hartpury, the England ACE league champs from Gloucester, who acquitted themselves quite well at the World Schools Festivals held in South Africa in 2018 and 2019, are jetting in to be part of KZN's top top school rugby festival. They will be the first overseas school to participate since New Zealand's Christ's College played in 2011. Christ's College struggled that year but they did blood a youngster who would turn out to be one of the  ever players to set foot on Stott Field during Easter, namely All Black sensation Damian McKenzie
Then the bombshell! Selborne have attended every single KERF since its inception, have decided to head to KES in Jozi in 2023.
Dale returns the festival while the Worcester Gimnasium Bosvarke will make their debut at the three-day event.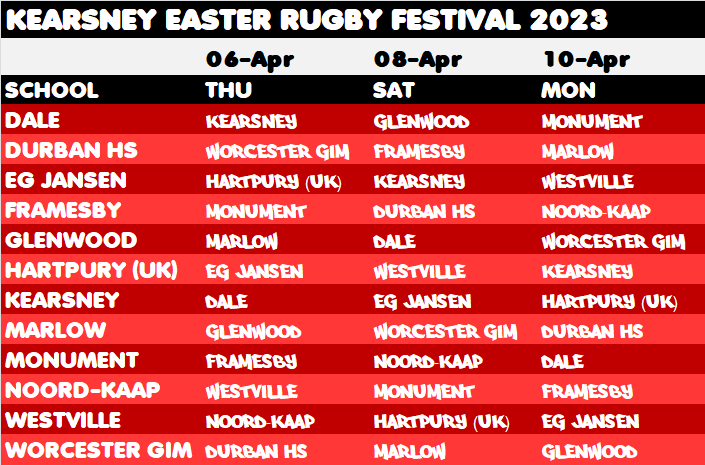 MEDIA RELEASE
2023 KEARSNEY EASTER RUGBY FESTIVAL
Supporters of fast-paced schoolboy rugby are set to score with this week's announcement that the Kearsney Easter Rugby Festival will again kick off over Easter weekend.
This 14th festival promises thrilling match-ups between some of the country's top-ranked rugby schools, as well as the United Kingdom's current ACE League champions, over the three play days – Thursday 6, Saturday 8 and Monday 10 April.
Glenwood, Westville, Durban High School (DHS) and hosts Kearsney College will represent KwaZulu-Natal. Returning to the festival are two powerhouse teams from Gauteng – Hoërskool Monument and Dr EG Jansen – and exciting Eastern Cape regulars Hoërskool Framesby (Gqeberha/ Port Elizabeth), Dale College (Qonce/ King Williams Town) and Hoër Landbouskool Marlow (Cradock), as well as Kimberley's Hoërskool Noord-Kaap.
The organisers are excited to welcome newcomers are Worcester Gimnasium from the Western Cape and Hartpury College from the UK. Hartpury has won the UK's national ACE League final 10 times in the last 12 years, and was named as the best in the world at producing professional rugby players in a study by NextGenXV.
Continued participation of this calibre of teams highlights the festival's prestigious status amongst players, coaches and supporters. Schoolboy rugby plays an invaluable role in the development of South Africa's rugby culture, and instils the values of sportsmanship, team work and respect in young players.
In keeping with the festival's tradition, four primary school teams and an U13 development team have also been invited to showcase their skills. They are Highbury Preparatory, Hillcrest Senior Primary, Westville Senior Primary and Umhlali Preparatory, as well as the KZNRU Ibutho /Mark Godefroy team. An U13 game will kick off play each day, followed by six high school fixtures.
Speaking at the launch of this year's festival, Kearsney headmaster Patrick Lees acknowledged the support of major sponsors Standard Bank, Halfway Ford and The Sharks, which has enabled the festival to grow significantly since its inception in 2008.
Standard Bank's head of Commercial Clients, Craig Polkinghorne, said they were proud of their two-decade association with Kearsney and the festival which they have sponsored since 2012.
"As a bank heavily invested in education in South Africa, we recognise the critical role of sport in a well-rounded education and fully developed character. Moreover, we understand the role of sport in binding together people and communities in South Africa, building strong civil society," he said.
Trevor Browse, CEO of the Halfway Group, said schoolboy rugby has an unbridled passion and purity that is often lost at higher levels, with many lifelong rivalries being born over the festival. The depth of South Africa's available talent would ensure we remain globally competitive in the game, he said.
Colleague Chilton Penery, dealer principal at Halfway Ford Waterfall, said the company was extremely proud to be associated once again "with this amazing yearly initiative".
Michael Horak, The Sharks high performance manager, said it was important for players to soak up their experiences, have fun with their fellow teammates and make long lasting memories.
"The Sharks and The Sharks Academy are proud of our association with the iconic Kearsney Easter Rugby Festival since its inception. We look forward to seeing what these young players, from the best schoolboy teams around the country, bring to KERF this year," he said.
Together with The Sharks, the festival's successful Boots & Balls outreach initiative will again collect
new and used sports gear, with the focus on rugby gear. All donated kit is sorted, refurbished and distributed to selected KZN Rugby Development schools and clubs.  Participating teams and the public are requested to leave kit in designated collection bins at the main field.
Considered to be one of the most prestigious and well-organised schools' rugby festivals in South Africa, teams travel with families and supporters to enjoy top schoolboy rugby in a family-friendly festival atmosphere on Kearsney's beautiful campus, as well as enjoy KZN's glorious Easter weather.
Numerous food outlets, a refreshment tent, exciting KidZone for little ones and ample available parking will ensure spectators can fully enjoy the special family atmosphere at Botha's Hill.
Fixtures and festival information are available on www.kearsney.com and, for those unable to attend the festival, it will be live-streamed on the SuperSport Schools app.
Kearsney College 20 Dale College 23
Kearsney College and Dale College got the first days play underway, with the visitors pulling off a remarkable comeback to open their campaign with a thrilling 23-20 win.
The festival hosts dominated territory and possession early on, twice turning down kickable shots at goal in favour of a lineout drive. The decision-making paid off when Junior Dlamini dotted down on the left touchline to get them off to a flyer.
The Eastern Cape boys came back swinging, proceeding to set up camp in Kearsney territory for the better part of the first half and initiating wave after wave of attack. Although the hosts put on an admirable defensive effort, a high hit by Jarred van Staaden earned him a yellow, with the visitors eventually making the most of the one-man advantage through Cole van Staden.
Kearsney went on to bag further five-pointers through Siso France and SalusiweMqobongo to set up a commanding 15-5 lead at the break and, when a fantastic individual score by scrumhalf Chad Croshaw gave Kearsney a 15-point lead, it looked as though the floodgates had opened.
Royden Kennedys side had other ideas though, and, in the space of a few minutes, a Lindokuhle Ndlela penalty and tries to namesake Lindokuhle Xozwa and Athi Msileni brought the scores level with just over a quarter to play.
The sides continued to trade blows before a typical Dale counterattack earned them a penalty on Kearsneys 22, from which Ndlela slotted the winning kick with time up on the clock to record a cracking victory.
Durban HS 31 Worcester Gimnasium 36
Worcester Gimnasium earned a late 36-31 victory over Durban High School in a counter-attacking feast in game two. Both schools were brilliant with the ball in hand, with Worcester taking their opportunities when they mattered to fight back against an accurate DHS team.
A great run saw Alton Hendricks take Worcester into an early lead before DHSs Deano Boesak put half-back partner Florenson Ockhuis away with a delicious offload inside their opponents 22.
DHS made use of their lineout maul often and one such drive opened up plenty of room for Ntando Mavuso to dot down off first phase, with the diminutive right winger adding his second not long afterwards.
A 40m penalty by Carick Kustoor, excellent from the tee all morning, made it 17-10 at the break, but a Maurice Willemse touchdown extended the DHS lead after the interval.
AlungileMothibegot one back for Worcester against the run of play, before Thando Luthuli, hit back soon for the Durbanites.
However, a Ryan Jacobs effort, as well as Mothibes second, brought the scores level at 31-all with under 10 minutes remaining on the clock. Then, with under a minute to go, Hope Dliso scored the winner in the corner to earn the Western Cape outfit a dramatic 36-31 win.
Monument 28 Framesby 7
In game three, Ho벳kool Monument outmuscled Hoërskool Framesby to ease to a comfortable 28-7 win. Monnas were rewarded for their early dominance through scrumhalf Ceano Everson, who put the Krugersdorp boys ahead not long after kick-off.
A powerful counter-shove at scrum time gave the ever-present Everson the chance to steal possession inside Framesby territory, which eventually resulted in Nathan Erasmus extending Monuments lead.
Framesby didnt have much in the way of territory or possession in the first half, living mostly off scraps and unable to stamp their authority on an uber-physical Monument outfit, who took a 14-0 lead into half-time.
The second half went much the same way as the first, with the boys from Gqeberha struggling for a foothold in the game. A try by Michiel Burger and Eversons second added to the tally. Jaco Pretorius pulled one back for Framesby but it wasnt to be.
Westville 31 Noord-Kaap 19
Westville Boys High School held off Hoërkool Noord-Kaap in a hard-fought 31-19 victory in game four. The KZN boys started the first half brightly, but some lapses in concentration on defence allowed Noord-Kaap back into the contest. Deon Carneys side did well to fight back in the face of a hard-nosed Westville line-up, and they enjoyed some good moments at times.
Ultimately though, Westvilles physicality was too much for Noord-Kaap to handle, as the local lads got their festival campaign off on a winning note. Midfielder Likhona Finca opened the scoring for Westville just a few minutes in, with No 14 Michael Satade bagging a brace soon after.
After initially struggling to break Westville down, Noord-Kaap hit back through hooker Liam Harmse and winger Junior Kettledas to make it 19-12 at the break.
Fullback Tshegofatso Ramaloko extended Westvilles lead in the second half before Finca positively barnstormed his way over for his second of the encounter. A Tyron China break set up Shaw Lourens for Noord-Kaaps third, but they couldnt get any closer to closing the deficit.
EG Jansen 28 Hartpury College (UK) 28
Dr EG Jansen and Hartpury College played out a scintillating 28-all draw in the penultimate game of the first day of the festival.
Hartpury, the first overseas team to participate at KERF since Christ College back in 2011, produced a manful defensive shift late on, to deny the Boksburg boys at the end of what was a brutal affair.
The tourists spent the majority of the opening 10 minutes defending inside their own half, and they were eventually breached when Reon Pretorius barged over.
From there it was all Hartpury though, with a converted Sam Morton-Smith effort levelling the scores in no time before a prolonged period of possession and territory was rewarded when Toby Maddock went over to put the boys from Gloucestershire 14-7 ahead at the interval.
They extended their lead through powerful hooker Henry Walker, but EG Jansen responded against the run of play, when Juandre Jacobs charged down a kick on halfway to bring it back to within seven.
Sonny Greenman, who nailed all four conversions on the day, hit back for Hartpury but the momentum swung again in EG Jansens favour.
The South Africans replied immediately when they were awarded a penalty try following an illegal collapse of a powerful driving maul, before flyhalf Ruan van Heerden dived over to level the scores.
EG Jansen launched a number of attacks in the Hartpury red zone at the death, but some desperate defending from the boys in red kept them out and sealed the draw.
Glenwood 22 Marlow 10
Day one action concluded with Glenwood seeing off Hoërandbouskool Marlow 22-10 in a fiery affair.
It took a while for the Green Machine to warm up the engine, but once they did, they looked really good. The KZN boys work at the breakdown and defensive organisation played a big part in what was a solid display against a tenacious Marlow outfit.
The Cradock-based team had their moments, particularly in the second half, and did well to match Glenwoods physicality. In the end, though, they just couldnt create enough with the ball in hand to properly challenge their Durban rivals.
The early stages were a topsy-turvy affair, with both schools seeing plenty of possession. Glenwood finally made their opportunities count though, with Zuki Tom going over twice to put his side in charge.
Marlow took advantage of a rare attacking chance through Leonard Booysen, but a Johandre van Rooyen penalty made it 17-5 at the break.
There wasnt much to separate the sides in the second half, with SisiphiwoDwayi and AJ Schenk trading tries, but it was Glenwood that eventually held on for the win.
Tensions boiled over right at the death, with MC Strydom and Laythen Mfupieach receiving yellow cards, but it didnt affect the score-line.
Hartpury College (UK) 09 Westville 14
Westville Boys High beat Hartpury College 14-9 in a stop-start affair in the opening game of day two.
The execution of both outfits left a lot to be desired in the first half, but Westville got progressively better as the game wore on and was ultimately able to capitalise when it mattered despite some poor discipline.
Hartpury had their moments with the ball in hand but lacked a cutting edge, struggling to break down a very physical Westville defence.
After dominating early on, a Ben Elliot penalty put Hartpury ahead. As the first half drew on, possession changed hands a number of times with neither side able to make the most of the chances that presented themselves.
Two more Elliot three-pointers after the break pushed Hartpury into a nine-point lead, but two quickfire tries by Westville No 13 Siyabonga Ndlozi fired them ahead.
The first, via an intercept from inside his own half, came completely against the run of play, while the second was due in large part to the powerful carrying of midfield partner Likhona Finca.
Despite not being at their best, Westville will take great confidence out of this one as they head into the final day.
Worcester Gim 13 Marlow 30
A powerful display from Hoer Landbouskool Marlow earned them a comfortable 30-15 win over Worcester Gimnasium.
While Worcesters ball-in-hand play was as electric as ever, their chances were few and far between and they battled to hang onto possession for any meaningful period of time.
Marlow played with bucket-loads of intensity from the get-go and it wasnt long before Steyn Foley went over off the back of a powerful driving maul.
Worcester was struggling to match the physicality of the Cradock boys, and two Gideon Jordaan penalties extended Marlows lead to give them a 13-point buffer at the break.
The boys in blue were finally rewarded for their silky offloading when Alton Hendricks went over for their first points of the day, while a penalty from the boot of the ever-dependable Carick Kustoor brought them to within three.
But further tries to front rankers JR Boffa, Robert van Zyl and flyhalf Aiden de Villiers effectively ended the match as a contest.
Worcester Gims Hope Dliso scored a consolation effort thereafter, but it was too little too late.
Glenwood 19 Dale College 7
Glenwood Highs well-structured approach was enough to see off Dale College in a 19-7 win.
Though Dale thrived in the loose, they were starved of opportunities by a disciplined Glenwood line-up. Still, the Eastern Cape boys defended manfully at times and did well to shut down a number of attacking chances from the Durbanites.
It was a scrappy old affair in the opening exchanges, but Glenwood remained patient before opening their account through Okonta Chijindu. They were rewarded for a well-worked lineout drive when hooker Ntokozo Ndwalane got their second on the stroke of half-time to make it 12-0.
Dale hit back with a converted effort by Lindokuhle Xozwa but a superb gather and score by Chijindu from the ensuing kick-off swung the momentum right back in Glenwoods favour.
Possession and territory traded hands several times thereafter, but the Green Machine hung on for the win.
EG Jansen 12 Kearsney College 17
Kearsney College produced an impressive all-round performance to condemn Hoerskool EG Jansen to a 17-12 defeat, their first of the season.
The game was an evenly matched affair with the hosts taking a slender five-point lead into the break.
Dr EG Jansens driving maul caused all sorts of chaos in the secondhalf, but Kearsney did well to repel them time and again, to finally come out on top.
The One Stripes came out of the blocks firing and struck first through Anele Cele. EG Jansen replied when Nathan Mathee went over, but a well-weighted stab through by pivot RoydanMadatt was gathered by second row Jack Rankin for Kearsneys second try of the afternoon.
Flyhalf Matthew Bergman was the first to trouble the scoring in the secondhalf, finishing off a lovely counter-attack after some intelligent tactical kicking from the Boksburg boys. They were beginning to dominate proceedings, setting up shop in the hosts red zone through their devastating maul, and the pressure finally told when Sani Sawutireceived yellow for an offside tackle.
They couldnt add to the score-line though, and a clever box kick by Kearsney scrumhalf Chad Croshaw soon after, was pounced upon by Siso France to put them ahead.
The home side didnt look back from there and held on for their first win of the festival.
Durban HS 31 Framesby 10
A rampant Durban High School (DHS) outfit put HoerskoolFramesby to the sword in a 31-10 win in the penultimate game of day two.
Although Framesby did enjoy long passages of possession, DHS were superb with and without the ball and claimed a comprehensive victory in the end.
The excellent Deano Boesak put DHS ahead early on from the kicking tee, before Bandile Zama and Dale Hendrikse dotted down after some brilliant backline play.
Framesby rebounded strongly after those initial setbacks, setting up camp deep inside DHS territory and finally going over through storming hooker Hein Terblanche. Although they enjoyed the lions share of territory and possession through to half-time, they were kept at bay by some determined DHS defence.
The Horseflies were devastating in broken field and extended their advantage through thrilling tries from Hopewell Ntshangase and Zingce Simka.
Sean Vermaak got another back for the Gqeberha boys, but it wasnt enough.
Monument 50 Noord Kaap 05
Hoerskool Monument romped to a 50-5 victory over Hoerskool Noord-Kaap in the final game of day two.
Unforced errors interrupted the flow early on, with neither side able to build anything in the way of momentum or gain a real foothold in the contest. Ultimately though, the Krugersdorp side were far too strong, getting off the mark after Kelvin van Wyk was released down the left touchline.
A brutal driving maul then earned them a penalty try, with the culprit, Noord-Kaap loosehead Eveton Hamat, earning time in the naughty chair.
After Monnas No 9 Ceano Everson saw yellow for a dangerous tackle, Jonaden Links finished off lightning backline play in the corner to pull five back for the boys in white, but a Daylon Myners break made it 21-5 at half-time.
Hanu Fourie, Morne Venter, Juandre Marais and Nathan Venter (two tries) all added to the score-line in the second-half as Monument ran riot.
Glenwood 53 Worcester Gim 08
Glenwood High School ensured they left Bothas Hill with a 100% record after dispatching of Worcester Gimnasium 57-8 in the opening game of the final days play.
The Green Machine, buoyed by another well-structured attacking and defensive effort, dominated the collisions and barely gave their opponents an inch all morning.
Worcester, who beat DHS on the first day before falling to Marlow on the second, just couldnt live with Glenwoods physicality, and spent the majority of the match playing well behind the advantage line.
Firsthalf tries to Keegan Goosen, LithembaMfupi, MJ Schoeman and Liam Terblanche put Glenwood well ahead, with the Bosvarke unable to get out of their own half or secure any meaningful possession. When they did get the ball, they were immediately swallowed up by green defenders, who completely shut down their space – negating their superb offloading game in the process.
A Carick Kustoor penalty was as good as it got for the boys in blue in the firsthalf, with the KZN outfit leading 26-3 at the break.
Glenwood picked up where they left off in the second, grabbing further five-pointers through Jordan Hargreaves, while Terblanche and Schoeman each got their second.
Substitute Zuki Tom brought up the half-century for Glenwood before a William van Vuuren effort completed the rout.
Carick Kustoor grabbed a late consolation, but it meant little in the end.
DHS 32 Marlow 25
Durban High School secured a dramatic late 32-25 win over Ho벌andbouskool Marlow in the second game of day three.
DHS enjoyed the majority of possession, but a number of handling errors stunted their momentum time and again. The accuracy of their passing left a lot to be desired at times, and they may have made more opportunities count had they been better in this department.
Marlows defence stood up strongly to the KZN boys initial onslaughts, and they did well to remain patient before launching attacks of their own.
Gideon Jordaan and Deano Boesak traded penalties early on before DHS began to dominate the ball. A prolonged period of DHS pressure finally told when barnstorming Siseko Mani barged his way over from close quarters, to put the Horseflies in front.
Marlow made a rare spell of possession count when flyhalf Aiden de Villiers dink over the onrushing defence was finally pounced upon by halfback partner Dempers Meyer. The successful conversion levelled matters. Another penalty apiece made it 13-all at the break.
Sustained DHS pressure finally told, when winger Maurice Willemse scythed his way over on the left for the first points of the second half.
Clever tactical kicking from Jordaan provided Marlow with some valuable territory and de Villiers made it count soon afterwards with a fantastic individual score to make it 18-all.
DHS hit straight back through a converted Amahle Mazibuko score, but another try by standout Marlow hooker HD Aucamp levelled the scores once more.
The match looked to be heading for a draw, but a late DHS attack was finished off under the sticks by ZingceSimke with time up on the clock to secure a rousing win.
Monnas 41 Dale College 05
Hoërskool Monument saw off 13-man Dale College 41-5 in the third game of day three.
Outside centre Athi Msileni was shown his marching orders just six minutes into the encounter for a high hit on Monnas scrumhalf Hanno du Toit, but the Eastern Cape boys did well to keep the score tight in the first half, before running out of steam in the second.
Dale was reduced to 13 players, with just minutes remaining, after LinembasaMayoyoearned himself a red, but the game was as good as done by then.
Monument battled to hang onto the ball for sustained periods during the opening half hour, with Dales loose brand of footy causing them all sorts of problems. Ultimately though, the two-man advantage told, and they went on to grab their third win of the festival.
It didnt take long for the Witbulle to open their account, courtesy of JC Oosthuizen, before Msileni saw red. Flyhalf Daylon Myners then went over minutes later with things beginning to look ominous for Dale, but they did exceptionally well to hog the ball and remain in the fight.
Liyabona Matyana pulled one back for the Daleians as the teams headed for half-time with Monument leading by just five.
The Krugersdorp boys were much improved after the break, and quick-fire tries to Nathan Venter, Ceano Everson and Jamaal Feldman in the space of a few minutes put the game to bed.
Everson got another before Mayoyos sending-off, while Jody Schambreel had the final say in the game.
Westville 22 EG Jansen 10
Westville Boys High School beat Hoërskool Dr EG Jansen 22-10 in another absorbing encounter on the final day.
The result means Westville join Glenwood and Monument in leaving the festival with a three-from-three record, having previously dispatched Hoërskool Noord-Kaap and Hartpury College from the United Kingdom.
EG Jansen heads home winless, having drawn with Hartpury and narrowly falling to beat Kearsney College, during the first two days action.
The first half was a see-saw affair, with both sides enjoying plenty of possession. A fantastic chip and chase finish from David Twala broke the deadlock in EG Jansens favour before Westville hit back with a Karabo Maimane try after some powerful backline play.
Livewire fullback Tshegofatso Ramaloko, who enjoyed another standout showing, banged over a long-range penalty for the KZN outfit; but the boys from Boksburg hit back through Ruben Green, as the sides headed for half-time at 10-all.
Westville was beginning to stitch together some great phases, and a devastating break by No 12 Likhona Finca put eighthman Caleb Dreyden over, before skipper Tebogo Mkhomazi dotted down soon afterwards.
EG Jansen had more opportunities to add to their tally, but Westvilles defensive work rate and solid tactical kicking shut them down time and again.
Ramaloko had another long-range effort, this time from 50 metres out, which fell just short; as Westville hung on for the win.
Framesby 35 Noord Kaap 07
Hoerskool Framesby took their chances when it mattered, to put Hoerskool Noord-Kaap away 35-7 in the penultimate game of the festival.
Both sides were searching for their first wins, with the Gqeberha boys heading into this one having already been beaten by both Hoerskool Monument and Durban High School. Noord-Kaap lost out to Westville Boys High in their opener, before being humbled by an excellent Monnas outfit in the final game of day two.
Framesby drew first blood when Sean Vermaak barged his way over after a thundering rolling maul, but a clever snipe by Noord-Kaap scrumhalf Stone Coates in the opposition red zone levelled matters a few minutes later.
The Eastern Cape side then proceeded to take firm control of the contest, setting up shop deep inside Noord-Kaap territory, and finally scoring through Tiaan Pretorius after some manful defending by the Kimberley boys.
Despite some late attacking chances, Noord-Kaap couldnt narrow the deficit as the sides headed for the break with Framesby 14-7 in front.
Framesby again looked to their maul for an advantage and were rewarded when hooker Hein Terblanche extended their lead, before flyhalf Logan Muller cut the Noord-Kaap D to ribbons, to completely take away the game from the boys in white.
A yellow card to Terblanche did little to impact the result, with a Ryan Rosseau intercept against the run of play adding even more gloss to the score-line.
Ewald Labuschagne then earned himself a yellow for a trip late on, but it mattered not.
Hartpury College (UK) 26 Kearsney College 24
Hartpury College ensured they didnt leave Bothas Hill empty-handed after knocking over hosts Kearsney College 26-24 in the final game of the weekend.
The Brits, who had drawn their opener with Hoerskool Dr EG Jansen 28-all, before falling to Westville Boys High 9-14, carried and tackled strongly to earn a well-deserved win in the end.
For Kearsney, who were beaten 20-23 by Dale College on day one before seeing off EG Jansen 17-12 in their second outing, its a case of taking the positives out of what was a very challenging fixture list.
By the time the match got underway, conditions had become extremely challenging for the players, with a persistent drizzle making ball-handling increasingly difficult.
Both sides began the encounter high on energy, with big hits flying in from all angles, but it was Hartpury College that slowly began to take control of the contest, courtesy of some accurate game management and intelligent decision-making.
Winger Dan Williams finished off for the tourists following a good spell of possession, before towering second row Joe Pauling added another, after some neat offloading on the left touchline.
Things were beginning to get worse for the hosts, with Williams scoring his second to take Hartpury out to a 19-0 lead, but James Francke pulled one back before half-time.
Kearsney upped the intensity in the second-half, putting in even more big hits on defence, and managed to score again through Chad Croshaw off the back of a good driving maul.
With just over 10 minutes to go, Mason Watkin and RoydanMadatt traded tries for their respective sides, and things got very interesting when a Jack Rankin charge down resulted in a Kearsney try with just seconds remaining.
Ultimately though Hartpury held on to go home with a win to add to their draw from their first game.