Updated to include several IEB schools
Rondebosch produced outstanding results to edge out Bishops and finish top for NSC examination schools that perform reasonably well in rugby in their respective regions.
The IEB schools have been left off until all required data is available. What is known is that St John's College had an amazing set of results and if their university pass rate is 90% or higher, they would finish above Rondebosch. Helpmekaar and Kearsney not only achieved a 100% pass rate, all their students got degree passes. Hilton were also amongst those that showed academic improvement as they closed the gap on KZN's IEB leading schools.
Here is a table listing the matric results 2018 achievements and ranking of most of the rugby playing high schools who progress is tracked during the season on this website.
Please note that the weighting for this ranking relies primarily on University Degree passes and Maths/Physics achievement.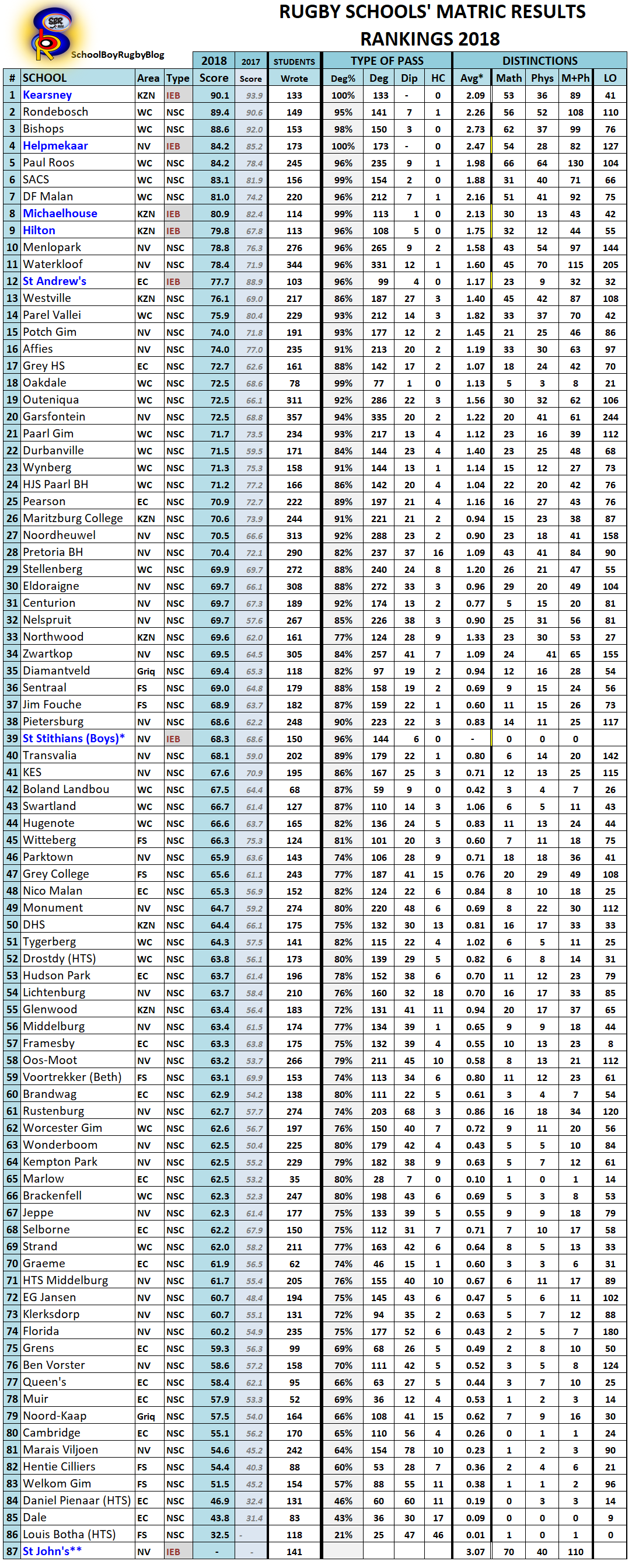 * St Stithians (Boys' College) – information is incomplete. An attempt was made to acquire the missing data.
** St John's College – information is incomplete. In spite of posting outstanding results, several attempts to obtain the crucial St John's degree pass rate for 2018 proved fruitless, which was surprising because for the year before this was one of the stats their headmaster seemed most proud of.
Important to note is that the matric results 2018 ranking list above is perhaps at best a tunnel vision view of a much bigger academic picture and therefore does not take many important education variables / obstacles into account.
Also worth noting and mentioned on similar blogs over the past few years are the following:
* Technical schools : some schools cater for specific needs while other schools offer a portion of their students subjects that do not qualify for degree passes.
* The language challenge : schools with higher percentages of second-language learners can and do feel the impact of this challenge on their overall results.
* Private school advantage : many private schools have the advantage of smaller class numbers which allow teachers to dedicate more time to individual students.
Link from where the data was obtained:
Key for table below:
Area = rugby region
NSC = "National Senior Certificate"
IEB = "Independent Education Board"
Wrote = the figure disclosed on the EWN portal above the wording "number of students in this school"
Deg% = university "degree" pass divided by total number of students that wrote
Deg = university "degree" pass
Dip = national "diploma" pass
HC = "higher certificate"
Avg* = total distinctions for all subjects EXCLUDING LIFE ORIENTATION divided by total students that wrote
Math = total Mathematics distinctions
Phys = total Physics distinctions
M+Ph = Maths plus Physics total
LO = Life Orientation
Life Orientation as Learning Area Life Orientation (LO) has been introduced into the senior high school phase as an examination subject. LO is a broad-learning subject that covers non-academic skills needed in life. LO is examined, marked and moderated internally and comprises the following sections: World of Work, helping learners find guidance in their choice of career and prepare them for the working world Health Education, this sections includes sex education, HIV/Aids talks, pregnancy, etc. Physical Education, involves physical exercise and training, it is done on a separate basis but eventually forms part of LO mark Religious Education, each South African school decides which religion to adhere to (as according to the South African schools act), learners may be exempted from these classes. In practice this means that learners may be exempted from, example, the Bible Studies class, but are compelled to attend the Religious Studies class (which deals with all religions as a study). Citizenship and Responsibility, this section teaches learners about their rights and their duties as citizens.