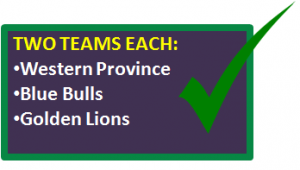 Paarl Boys' High who will be turning 150 years old in 2018 will host the Craven Week and Academy Week in 2018 from 08-14 July 2018.
The really big news is that the Blue Bulls, Golden Lions and Western Province will field invitational teams in addition to their regular Craven Week teams in 2018.
Craven Week will however be downsized from 20 teams to 18 with Zimbabwe, Namibia, Eastern Province Country Districts, Griquas CD and Border CD all being relegated to the  Academy Week.
The Under-13 Craven Week and Under-16 Grant Khomo Week, meanwhile, will be hosted at Hoërskool Diamantveld in Kimberley from 01 to 06 July 2018.
| | CRAVEN WEEK | | ACADEMY WEEK |
| --- | --- | --- | --- |
| 1 | Blue Bulls | 1 | Blue Bulls |
| 2 | Boland | 2 | Boland |
| 3 | Border | 3 | Border |
| 4 | Eastern Province | 4 | Eastern Province |
| 5 | Free State | 5 | Free State |
| 6 | Golden Lions | 6 | Golden Lions |
| 7 | Griffons | 7 | Griffons |
| 8 | Griquas | 8 | Griquas |
| 9 | KZN Sharks | 9 | KZN Sharks |
| 10 | Leopards | 10 | Leopards |
| 11 | Limpopo | 11 | Limpopo |
| 12 | Pumas | 12 | Pumas |
| 13 | South Western Districts | 13 | South Western Districts |
| 14 | Valke | 14 | Valke |
| 15 | Western Province | 15 | Western Province |
| | | | |
| 16 | WP Inv | | |
| 17 | Blue Bulls Inv | | |
| 18 | Golden Lions Inv | | |
| | | | |
| | ——————->>>> | 16 | Pumas CD |
| | ——————->>>> | 17 | Eastern Province CD |
| | ——————->>>> | 18 | Griquas CD |
| | ——————->>>> | 19 | Border CD |
| | ——————->>>> | 20 | Zimbabwe |
| | ——————->>>> | 21 | Namibia |
| | | | |
| | | 22 | Griffons CD |
| | | 23 | KZN Sharks CD |
| | | 24 | SA LSEN |
| | | 25 | Valke CD |
| | | | |
| | | 26 | Border CD "B" |
| | | 27 | Griquas CD "B" |
| | | 28 | Namibia "B" |
| | | | |