Which players are on your radar coming into the 2020 schoolboy rugby season?
The 2020 schoolboy rugby season kicks off in just a few weeks time and I know anyone with a keen interest in the sport will have the names of a few players they are looking forward to watching floating around somewhere in their heads.
Already SARU has identified a group of u18's that they have termed as "elite" players and who they will be working with during a camp at the end of the February 2020. Experience (and even the stats) tells us that over and above the names on the SARU list, there is an abundance of other good players who during the course of the next few months will up their game and come close to the highest achievable standard of play at this age-group level. Some are bound to even prove to be match-winners on their day. Those who turn out to be your personal favourites might provide you with the sort of good memories that last for years to come.
Just off the top of my head I picked a team of players I am looking forward to seeing in action this year. I limited my selection to those who did not make it onto the SARU list but in truth and as mentioned above, there are a lot of rugby boys around the country who belong in this category. I did my best to limit my choices to one per school.
Anyways here is my "Preseason XV"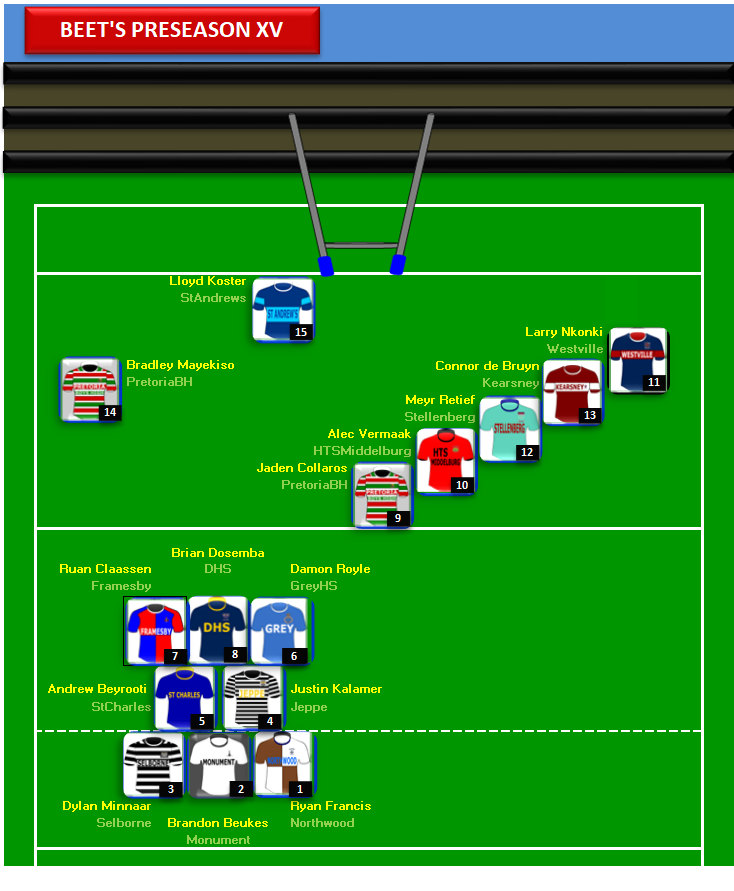 No
NAME
SCHOOL
WHAT I LIKE ABOUT THE PLAYER
1
Ryan Francis
Northwood
Converted from hooker to LH prop at the start of the 2019 season. Upped his game big time and peaked at the perfect time to cement a CW berth. His scrumming and work-rate were of a high standard.
2
Brandon Beukes
Monument
Put in a solid performance against Glenwood in 2019. Played like he was the Lions CW 1st choice, when in actual fact he was only the Witbulle second choice filling in on the day. Looks like quite a prospect for 2020.
3
Dylan Minnaar
Selborne
Wore no.17 at the Kearsney Easter Rugby Festival, producing form worthy of a single digit jersey wearer. He is a big unit and uses his time on the ball effectively.
4
Justin Kalamer
Jeppe
Good sized player who is expected to catch the eye as he transitions from support player to a main go-to option for his school this season.
5
Andrew Beyrooti
St Charles
Showed promising signs of developing into one of KZN's best and most reliable big-ball-carriers. Was dominant in collisions in the match I watched but also kept his energy level up which was encouraging.
6
Damon Royle
GreyHS
Following in the footsteps of Grey's brilliant CJ Velleman is this turnover specialist. In a season in which the likes of Raynard Mouton (Monnas) and Alex Skudder (Helpies) are likely to be amongst the the big name fetchers, set an equally high standard for D.R. because he is consistently good.
7
Ruan Claassen
Framesby
" Ysterspeler!". A hard as nails player who puts his body on the line time and time again. An absolute pleasure to watch.
8
Brian Dosemba
DHS
Probably not tall or heavy enough to cut it in this position after school but at this level his combination of electric pace and desire to do well for his team make him stand out.
9
Jaden Collaros
PretoriaBH
A bit of a rough diamond in a specialist position in 2019 but the skills, rugby brain and a bit of physical presence are evident in what he does and the influence he is able to exercise.
10
Alec Vermaak
HTS Middelburg
Good balance plus and educated boot. He might start the season down the pecking order in terms of the rated 10 out there but watch out – this will be a different kind of Rooibulle team, possessing a potent backline and if the forwards can hold their own, a strong General at flyhalf won't go unnoticed for very long.
11
Larry Nkonki
Westville
A thrilling lively player with ball in hand who can carve up even the most organised defence.
12
Meyr Retief
Stellenberg
Nice sized outside centre who looks light on his feet and plays with a bit of flair.
13
Connor de Bruyn
Kearsney
Has been a pedigree loose-forward in KZN in the junior age groups. Now about to start his second season as a full-time midfielder. Reminiscent of last year's u18 international Henk van Wyk from Monnas in terms of stature, strength on his feet and that touch of explosiveness.
14
Bradley Mayekiso
PretoriaBH
Low centre of gravity broad-shouldered player with the ability to execute a fairly well-disguised wicked cutting step off his right foot.
15
Lloyd Koster
St Andrew's
Versatile tall player. Reads the game well. Should prove to be a handful to stop.