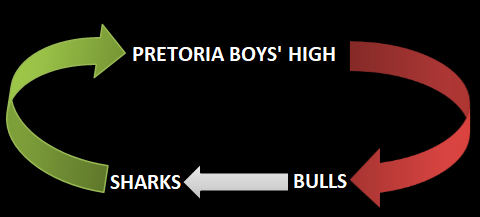 Super news for Candies supporters is that come 01 January 2019, a familiar figure in the form of the very likeable Paul Anthony will return to Pretoria Boys' High School to take up a contact as their new Director of Rugby.
Paul will not be the 1st team coach. His main focus will be putting in lower age-group structures that will benefit the seniors in later years. He will work closely with one of the school's stalwarts, Director of Sports Michael Housdon, in ensuring that Pretoria Boys' regains its rightful place in the SA schools set up.
The vastly experienced Paul has basically coached at all levels below test rugby level.
He matriculated at Pretoria Boys' High in 1976 and later spent 25 years as an educator at the school, 17 of which were as the 1st XV head coach.
One of the highlights during that time was the 18-6 victory over Affies in 2003. This ended a winless streak dating back to 1985 against their long-standing Pretoria rivals. Springbok Chiliboy Ralepelle was in that 2003 PBHS team.
After leaving Boys' High, Paul took charge of the Bulls u19's from 2008 to 2013. His best season there was his last one in charge, when his young Bulls became the first and only u19 team in SA history to go through an entire two-round season and playoffs unbeaten. The Bulls have not won the trophy at that age-group level since then.
In 2013, arguably the greatest Boys' High rugby star, former SA Schools player and Bok captain John Smit uses his power of influence as Sharks CEO to lure Paul to Kings Park in Durban. Here Paul spent time as a Super Rugby and Currie Cup coach before returning to coach in the junior structures once again. 2016 turned out to be a particularly memorable season as Paul worked his magic to turn a relatively low budget, seemingly weak on paper Sharks u19 team into a very competitive unit. In fact his time as both the Sharks u19 and later u21 head coach were characterised by having to make the most out of teams contracted on shoe-string budgets, which limited opportunities to develop a winning culture and placed more emphasis on improving individuals within the system, maximising their potential and providing them with better hopes of a path into senior rugby.
With major economically enforced restructuring of SA junior rugby set to go ahead beginning in 2019, age-group provincial rugby union rugby is set to become a less attractive option for many more professional coaches from a job security point of view. A return to the far more stable and well run school rugby arena is bound to prove to be a good move for other experienced coaches in Paul Anthony's bracket.