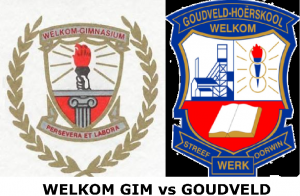 Goudveld and Welkom Gymnasium will feature in the 2018 finals of the Griffons League which takes place at the North West Stadium in Welkom on Saturday 04 August.
It is a historic first final between Welkom Gimnasium and Goudveld insofar as the Griffons League is concerned and obviously also the first time time that two Welkom schools will compete for the title in a finals.
Goudveld have never won the Griffons League title. In the past they regularly made the semi-finals but last played in the finals back in 2009 when they met and lost to Afrikaans Hoer (Rooiskool) from Kroonstad. This 2018 team is probably the best Goudveld team in more than a decade.
Welkom Gim won the Griffons League in 2015 and 2016 but surprisingly lost to Rooiskool in the semi-finals last year.
Welkom Gim is currently ranked 28th and Goudveld 29th on the current SBR-rankings.
The final could turn out to be a classic tight affair since Goudveld are hoping to have access to a number of players who due to injury were unavailable for the Welkom derby match between the two teams two weeks ago, when  Gimmies triumphed 36-16 in a match that was a lot more competitive than the final score suggests. On the very hard surface of the North West Stadium the bounce of the ball will definitely play a role and so too will the pacey backlines that both teams possess.
The game promises to be a humdinger and is there a huge buzz in the local community regarding the possible outcome of the game.
Griffons League A-team finals programme:
| MATCH | TEAM | TIME | SCHOOL |
| --- | --- | --- | --- |
| FINAL | u14 A | 10:00 | Witteberg vs Welkom-Gymnasium |
| FINAL | u15 A | 11:00 | Voortrekker vs Welkom-Gymnasium |
| FINAL | u16 A | 12:00 | Witteberg vs Voortrekker |
| FINAL | u19 Colts | 13:10 | Bultfontein vs Hoopstad |
| FINAL | u19 Irawa | 14:30 | Riebeeckstad vs Bothaville |
| FINAL | u19 A | 15:50 | Welkom-Gymnasium vs Goudveld |
A big thank you to HJ for his valued input.