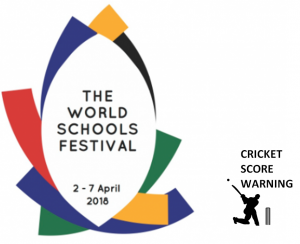 | SLOT | DATE | SCHOOL | | | SCHOOL | BROADCAST |
| --- | --- | --- | --- | --- | --- | --- |
| 14h30 | Tue.03Apr | Boland Landbou | 59 | 26 | Napier BHS (NZ) | |
| 16h00 | Tue.03Apr | Outeniqua | 91 | 00 | St Ignatius (USA) | |
| 17h30 | Tue.03Apr | Oakdale | 67 | 07 | Namibia XV | |
| 19h00 | Tue.03Apr | Monument | 48 | 14 | Cavaliers Rugby (AUS) | |
| 11h30 | Wed.04Apr | Glenwood | 53 | 00 | Italian All Stars | |
| 13h00 | Wed.04Apr | Paarl Gim | 84 | 07 | Rhino Rugby (USA) | |
| 14h30 | Wed.04Apr | Hilton | 35 | 24 | AP Dragons (Pacific Islands) | |
| 16h00 | Wed.04Apr | Affies | 15 | 26 | Hartpury College (UK) | |
| 17h30 | Wed.04Apr | HJS Paarl BH | 10 | 19 | Jaquares (ARG) | |
| 19h00 | Wed.04Apr | Grey College | 66 | 28 | Christchurch BHS (NZ) | |
| 13h00 | Fri.06Apr | Oakdale | 67 | 19 | St Ignatius (USA) | |
| 14h30 | Fri.06Apr | Glenwood | 53 | 07 | Namibia XV | |
| 16h00 | Fri.06Apr | Outeniqua | 47 | 13 | Italian All Stars | |
| 17h30 | Fri.06Apr | Monument | 42 | 37 | Napier BHS (NZ) | |
| 19h00 | Fri.06Apr | Boland Landbou | 67 | 00 | Cavaliers Rugby (AUS) | |
| 11h45 | Sat.07Apr | Hilton | 78 | 19 | Rhino Rugby (USA) | |
| 13h15 | Sat.07Apr | Paarl Gim | 38 | 36 | Jaquares (ARG) | |
| 14h45 | Sat.07Apr | Grey College | 60 | 00 | Hartpury College (UK) | |
| 16h15 | Sat.07Apr | Affies | 17 | 05 | AP Dragons (Pacific Islands) | |
| 17h45 | Sat.07Apr | HJS Paarl BH | 25 | 07 | Christchurch BHS (NZ) | |
| # | INTERNATIONAL SCHOOL | RESIDENT COUNTRY | | SOUTH AFRICAN SCHOOL |
| --- | --- | --- | --- | --- |
| 1 | Christchurch BHS | New Zealand | 1 | HJS Paarl BH |
| 2 | Napier BHS | New Zealand | 2 | Affies |
| 3 | Hartpury College | England | 3 | Boland Landbou |
| | | | 4 | Glenwood |
| 4 | Unión Argentina de Rugby | Argentina | 5 | Grey College |
| 5 | Cavaliers Rugby | Australia | 6 | Monument |
| 6 | The Namibian Rugby Union | Namibia | 7 | Oakdale |
| | | | 8 | Outeniqua |
| 7 | Africa Pacific Select XV | | 9 | Paarl Gim |
| 8 | Italian Select XV | Italy | 10 | Hilton |
| 9 | Rhinos Rugby School | United States | | |
| 10 | Saint Ignatius High | United States | | |
Blog from 15 October 2017- Boishaai 150th Festival : out of the box thinking may be needed to prevent cricket scores
The Paarl Boys' High 150th rugby festival overseas team are closer to being finalised and the challenge of putting together competitive fixtures required for overall success is coming to the fore now.
| | LOCAL | | OVERSEAS | REGION |
| --- | --- | --- | --- | --- |
| 1 | HJS Paarl BH | | Hamilton BHS |  New Zealand |
| 2 | Affies | | Christchurch BHS |  New Zealand |
| 3 | Boland Landbou | | Otago BHS |  New Zealand |
| 4 | Glenwood | | Napier BHS |  New Zealand |
| 5 | Grey College | | Hartputy College | England |
| 6 | Monument | | Millfield School | England |
| 7 | Oakdale | | Combined Team | Africa/Pacific Islands |
| 8 | Outeniqua | | ??? | France |
| 9 | Paarl Gim | | ??? | Argentina |
| 10 | Paul Roos | | ??? | Italy/USA |
Hats off to the Boishaai organisers: the concept (thought up by Sean Erasmus) is excellent, it's unique and it's exactly the sort of magnitude befitting of a great celebration like a 150th birthday.
The local school line-up is off the charts awesome but it's also extremely strong – they can bat all the way down the order, score big runs and score them quickly. The overseas visiting school line-up looks very shaky. It's like they have a top 3 batting line-up and then a really long tail. One can't help but believe that some overseas teams are going to get annihilated by an innings and a 100+ runs!
The original idea of local schools versus overseas schools is maybe something that has to be reconsidered this time around.
If Boishaai want to avoid a fantastic concept, a landmark celebration and 100's of hours of hard planning work from turning into an event that partly remembered for churning out cricket scores, it might be a plan to hold back on finalising remaining festival fixtures until after Day 1 when they have had a chance to assess the strength of the overseas visitors. From their Boishaai can organise best fit strength versus strength match-ups for the remainder of the festival – and this may have to include allowing some of the powerful local schools to play each other as part of a contingency plan.
Original Blog from August 2017:
World Schools Rugby Festival needs quality touring teams or it may flop
The Paarl Boy's High 150th Rugby Festival from 02-07 April 2018 is already starting to gain attention not just locally but abroad as well and if anything is all set to be remembered for its uniqueness as it attempts to incorporate an inaugural international festival. The festivity is likely to involve many of the who's who of schoolboy rugby teams in South Africa combined with a collection of overseas schools and there is even mention of a TV coverage deal in the pipeline to place it a notch above all other existing Easter holiday festivals.
If not very carefully put together by making use of in-depth background homework done before accepting invited touring school teams, the proposed World Schools' Rugby Festival, could turn out to be a one-sided thumbs down drubbing session rather than a showpiece of competitive schoolboy rugby.
The data available suggest that without too much research, it's possible to predict within an acceptable range of accuracy what kind of team a local South African school will put out the following year in terms of competitiveness. It goes without saying that generally those teams that traditionally finish closer to the top of the pile every year tend to achieve this because they are good and more consist. Therefore when inviting any of the usual Top 20 suspects, one tends to know in advance exactly what they are capable of.
So if local schools like:
Affies
Boland Landbou
Glenwood
Grey College
Monument
Oakdale
Outeniqua
Paarl Gim
Paul Roos
are on the shortlist for the World Schools Rugby Festival, as a betting man you are well within a comfort-zone placing money on these school all being relatively strong and capable of putting 50+ points past any underprepared or weakish overseas team without raising too much sweat.
Ideally unless plans are to let these local school play each other (bearing in mind that many of them already have annual derbies against each other during the regular season), the international teams that they get matched up against have to of a similar standard to elevate the festival to a good one – and this is really where the difficult comes in.
Most touring teams to SA over the last few decades have flatted to deceive at best. They have been on the receiving end of hidings. Very few of those teams were from New Zealand though. Due to the vast distance between SA and New Zealand, there has not been much interaction between the world's two leading school rugby nations in the past. That distance and cost is still going to be a determining factor for sure. A special event like a 150th anniversary might persuade a few schools to undertake the long journey as a once off but it's hard to imagine the same schools committing year after year.
Although there is little evidence to doubt the overall strength of New Zealand school rugby, Boishaai's own experience in New Zealand earlier in 2017, proved to be a very one sided one up until the controversial final game against Christchurch BHS. There were contributing factors to the big score-lines such as the timing of the tour in relation to the start of the New Zealand season. At the same time there was also a reality check that all that glitters is not gold.
The challenge for former Bok head coach Heyneke Meyer, now managing director of Carinat Sports Marketing, who is charged with putting together what will hopefully be a prestigious World Schools' Rugby Festival, is to find a collection of overseas school teams at the same level as Christchurch BHS were in April 2017. If he can achieve this, nothing should stand in the way of the festival being labelled as a huge success. If he doesn't get it right – Eish! We may witness a try-fest of Craven Week 2017 proportions.