SELECTORS
While Covid was busy screwing up everyday life, some good things happened. For one KZN made a much overdue change and now each of the mainstream high schools has a selector. At the very least this  balance will improves the sort after impartiality image.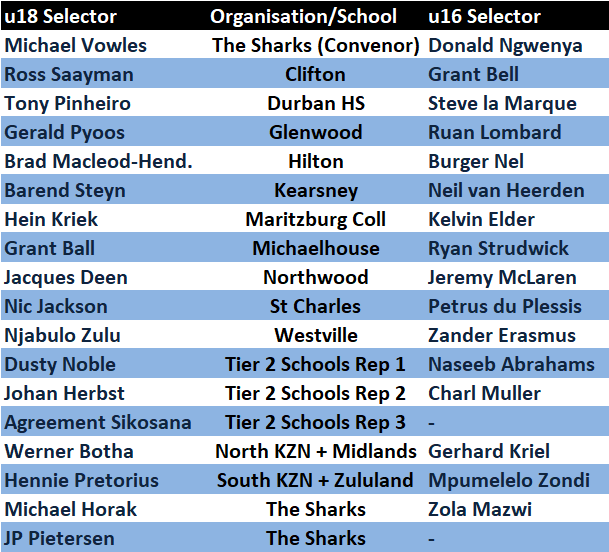 THE COACHES
All three coaches are selectors.
For u18 Craven Week, Hein Kriek of Maritzburg College replaces Jeremy McLaren (Northwood) who was the province's most successful provincial youth week coach in a long while, having guided the team to back-to-back finals. The Sharks/KZN/Natal last won the title back in 1990. Hein's extensive coaching career includes working with Damian de Allende while he was at Milnerton in the Cape. He also coached the Paul Roos 1st XV and was an assistant coach at the Griquas. Hein will be assisted by Jacques Deen (forwards – Northwood) and Njabula Zulu (backs – Westville).
THE TRIAL MATCH PROCESS
The trials process has also changed since pre-Covid times. In the new system, candidates first play for their own schools in front of selectors (a hectic 6-hour session). Planning could be better as it's hot on the heels of Wildeklawer which works against DHS, Glenwood and Maritzburg College, as their players, in addition to the long journey back from Kimberley, then play a third match in five days.
From there mixed team will be selected for the Final Trials.
SUMMARY OF THE SHARKS HIGH SCHOOL LETTER
The Tier 2 U18 and Tier 2 U16 teams will practice at Hollywood Bets Kings Park on Sunday 1st May 2022 starting at 10h00. The appointed coaches must please bring coaching equipment for the session.
There will be a trials match between Coastal CD U18 & U16 and Midlands/NKZN CD U18 & U16 on Sunday 1st May 2022 at Hollywood Bets Kings Park starting at 11h00. A Combined U18 CD team and a combined U16 CD team will be selected from this match. ​The Sharks High School Selectors are requested to attend this trial match and assist in the selection of these teams with the schools selectors from Coastal CD & Midlands/N.KZN CD.
Wednesday 4th May 2022 – Sharks High Schools Main Trial
Combined CD U18 & U16 to please arrive at 12h00 at Wednesday 04 May 2022, in order to have a practice before their games – the teams will be published on Monday 2nd May, after the trial game on Sunday 1st May.
The U18 & U16 Fixtures are as follows:
DHS                   vs        Clifton                          (13h00)
St Charles         vs        Northwood                 (14h00)
Combined CD  vs        Michaelhouse            (15h00)
Tier 2                 vs        Kearsney                     (16h00)
Westville           vs        Maritzburg College   (17h00)
Hilton                 vs        Glenwood                  (18h00)
The U18 fixtures will take place in the stadium.
The U16 fixtures will take place on KP2, outside the stadium.
Tier 1 schools to please play all U17 & U18 players in the U18 age group – no U19 players please.