Just for fun here is my Cape Town Southern Suburbs team to play a KZN Interschools League XV. It was inspired by watching two eye-catching pocket rockets wearing the numbers 15 jumpers this past weekend. On the SS side there is Fiekie Petersen who reminds me so much of the England Rugby World Cup winning star Jason Robinson. Every time FP got the ball against SACS, he looked like poetry in motion.  On the KZN side is a Brent Russell type in the form of Spha Ncgobo. I thought it might take some doing to find a KZN backline player as exciting as Westville's Larry Nkonki in the province this year and then out steps u17 star Spha, who's is electric.
Anyways as usual I have taken a bit of discretion with regards to player positions, more so in the SS team where my standout forward of the past weekend aka Gareth Blackmore (hooker) of Bosch is at 8, purely to generate that ball-carrying go-forward he seems such a natural at, from the back of the scrum. Big impression leaving inside centre Bruce Sherwood (Bishops) is alongside Blackmore, not because he reminds me of one Jamie Haskell – the challenge was there appeared to be an overstock quality backs in the Suburbs but not too many prospects in the forwards.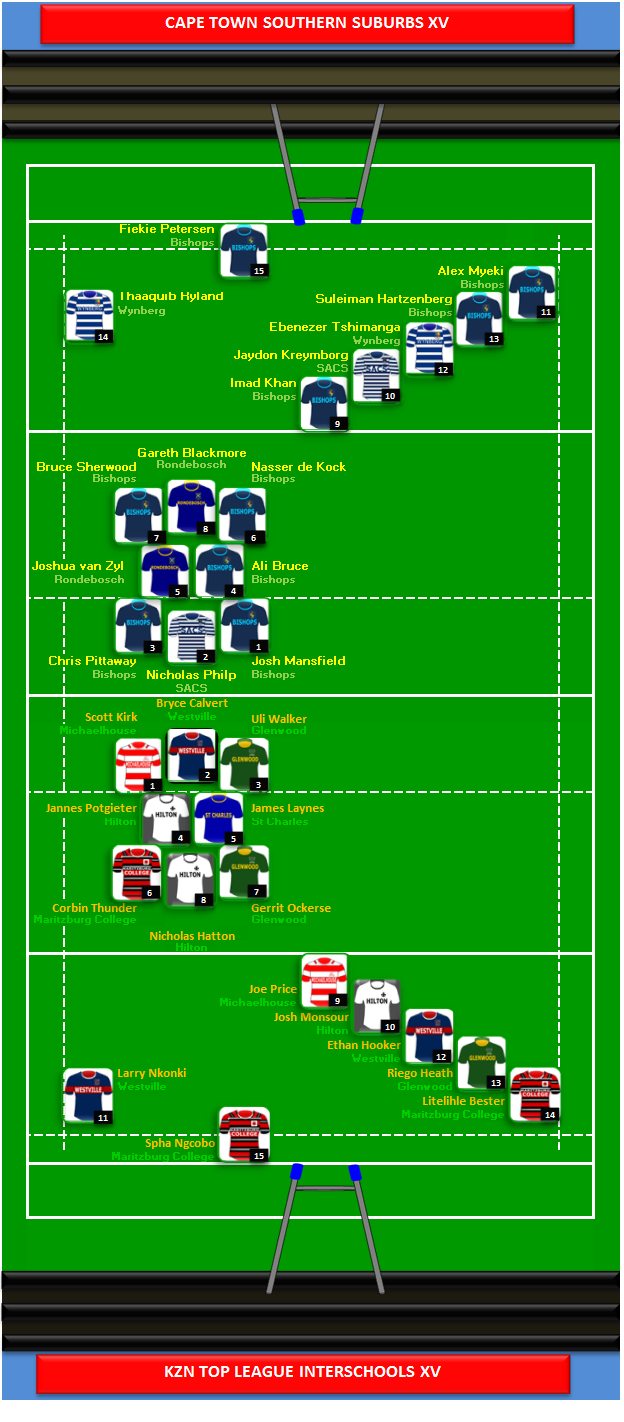 Bishops 29-20 SACS. Bishops seem to do all the glamour playing in this game. Lots of great individualistic bits, particularly by their centres but also contributions by other highlight worthy offers from forwards and backs. People have come to expect a certain style from Bishops and in spite of it still being early days, they delivered their DNA brand. By the end of the match they were also dominant in the scrums. SACS didn't have a lot going on but full-marks to them, their conversion rate of attacking opportunities into points was quite high. There were a couple of more elegant looking flyhalves than tall Jaydon Kreymborg on display on Saturday but in the end none as effective at getting points on the board and definitely none with a longer range punt. He did the hard work to assist the first try and finished the second SACS try from close.
Rondebosch 5-19 Wynberg. Like SACS, for the most part Bosch's line did not look threatening at all. It did however feel like they got the ascendancy in the forward exchanges as the match went on. If you tuned in late and did not see the scoreboard, you might have thought they were winning. That makes the big difference maker quite obvious. Berg had a bit of X and better linking ability thanks to their line. WB looked like a team that could hurt any opponent from anywhere on the park. They probably deserved a few more backline selections for the SS team based on what they were capable of delivering.
St Charles 27-18 Clifton. Big ups to St Charles. Their stream started off as a really professional production before running into a few issues along the way. The first half belonged to the Saints. They scored some good tries, the best one involving moving the ball around back and forth using the width via going through a few clean breakdown phases and finallycrossing the white chalk on the left. SCC raced into this handy lead and it looked like CC were going to be on the end of a hiding at one stage. However by halftime SCC were done and dusted. Clifton really struggled to get going all match but they forced SCC to err and used the field positions gained to stage a worthy fight back. In the end one of the glaring differences between the teams was how well the SCC lineout functioned. Much credit to hooker Kyle Oliff for his throw-ins. Lock James Laynes might not feature in the proper youth week trials but deserved reward for his work. The CC lineout was hard to watch at times. Had they got it right, who knows, the match result might have been different.
Kearsney 24-26 Michaelhouse. In a way this match reminded me of a game I watched at the Meadows a few years back. That day KC who clearly looked the better side, left points on the board in the first half and then pretty much of out of nowhere MHS mounted this epic comeback to sneak a memorable win. There have been a few close entertaining matches like that between the two schools in Balgowan in recent times but not at the Stott. So when KC rather surprisingly jumped to a 17-0 lead during the first half in 2021, it looked like another one–sided encounter on Botha's Hill. I doubt anyone expected House to score 26 unanswered points as quickly as they did, but it showed character. Everyone knows it's a team sport but a few MHS players pitched up big time. The converted scrumhalf Joe Price had a memorable match, scoring two tries and proving to be very solid in a position that looks it might be up for grabs at KZN Craven Week trials prior to the season start. There are a few teams in KZN who wish they had a go-to ball runner like prop Scott Kirk in their ranks. One of the strengths of the KC coaching team in recent years has been their ability to extract maximum value on attack from one or two strike players, turning them into big influencers on the local stage. They just don't seem to have that luxury this year, so it will be an interesting campaign to see how they adapt to this.
Glenwood 13-3 Westville. The strong wind on Dixon's field effectively had the biggest say. What I hoped would be the highlight match of the day in the province, turned out to be a contest where the team without the ball often looked the better one. Both wanted to speed up the match and use their backs but the conditions coupled with the time of season meant they just did not have the syncing to pull it off. Possibly also a bit disappointing was the inability to protect the ball at the breakdown. Matches were the pilferers find it too easy to disrupt often turn out to be less enjoyable IMO. In the final analysis Westville did not make the most of their wind-assisted field position in the first half. Right at the death when the match was lost, they showed the most of what they were capable of on attack and even still could not breach the Green Machine defence. For Glenwood almost the same verdict as Ville but significantly their scrum started to gain the upper-hand in the second half and it was from a tight-head in the Westville red zone that they seized the opportunity to score the only try via no.8 Gerrit Ockerse, one of the players I was crying out to see get more of with ball-in-hand. He looks capable of being a great asset as he is quite staunch in build and has a bit of toe which he proved during a nice carry in the first half. However just like the other goods players on the field, he found it hard to be assertive on attack.
DHS 10-34 Maritzburg College. The score tells the true story in this one. That said, DHS had some ball and it was not a stretch of the imagination to believe that they can improve and do better as the season progresses. There was definitely some positives to work with there. Their 13 Tolithemba Sibisi might be a player to keep tabs on. The College pack are probably not going to get  much recognition this season because they have some flashy try-line frequenters wearing double-digit jersey numbers, but there is a good deal of cohesion going on up front which paves the way for the excitement that takes place away out wide. The RBW main attraction at the moment is unmissable. It has not been seen at MC for a while but when they spread the ball, they do it efficiently and there seems to be genuine firepower in their 13 (who left thef field early on) and the back three, to scare any team who offers up the space. Unfortunately the steaming recording on Youtube cut off before the last MC try was scored, so perhaps like the Glenwood-Westville match there was something more positive in that period for the losing team to build on.
Northwood 6-31 Hilton. This match turned out a lot like I imagined it would. I'd been to the Reece-Edwards field to watch NW play HC in 2019. NW had a very successful team that year, knocking over several top league KZN schools and ending the last of their long running domestic losing streaks in the process. The HC '19 side were achievers themselves but I imagined to not be as good as the one they have this year. So same final result as in 2019 but the two factors mentioned above contributed to the bigger difference in points margin this time around. NW could not get their game on. Their flyhalf Emmanuel Bhiya has creative ability but even he could not impose himself in anyway. It just seemed like HC brings out the worst in NW's play and the hosts will enjoy the greater freedoms other KZN teams will afford them to express themselves. As usual HC was disciplined and well-drilled. HC Coach BMH is quietly criticised for being too conservative over the years but in flyhalf Josh Monsour, who made a couple of unforced errors in the match, he seems to have a pivotal player who can set off the backline on their way and produce a bit of magic on his own (like he did). HC a great engine and well-defined role-players amongst the forwards. They should rank very highly nationally this season. I generally like to see who HC has at 9 because they have had some really good players don on that jersey in recent times but watching this match I could not help but relate back to a few top loose-forward they have produced in the past. Big name players like Gary Teichmann, Wayne Fyvie and Bobby Skinstad. Even though it is a long way to the top from SBR, no.8 Nick Hatton really looks the part as a player who could achieve success after school. I was told that as good as he appears to be at rugby, he might be even better at cricket.