Latest: confirmed on Thursday 6 February 2020 that DHS has "discontinued" all sport fixtures against Glenwood for the foreseeable future.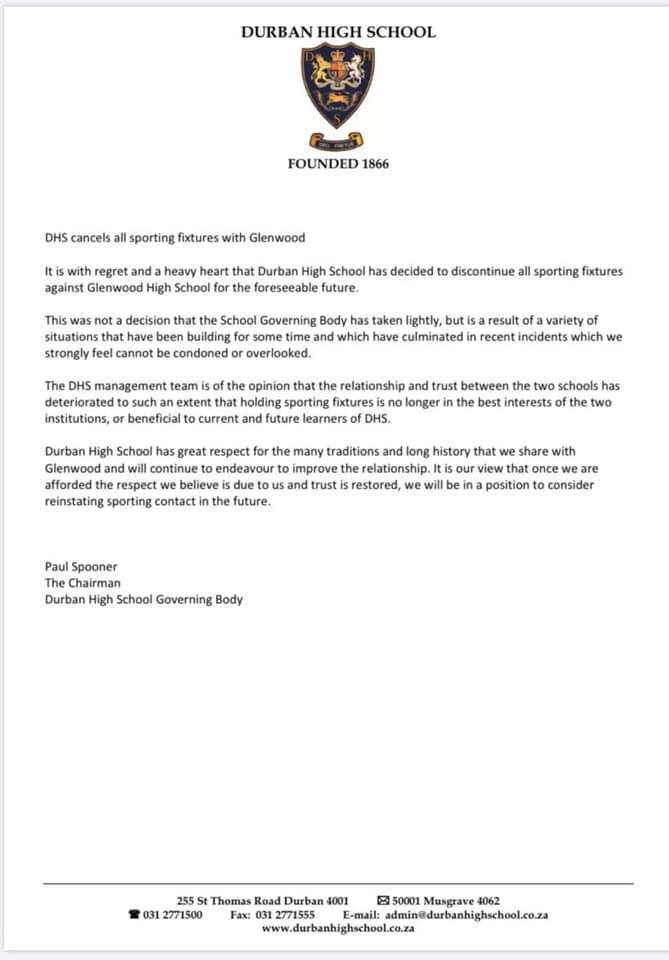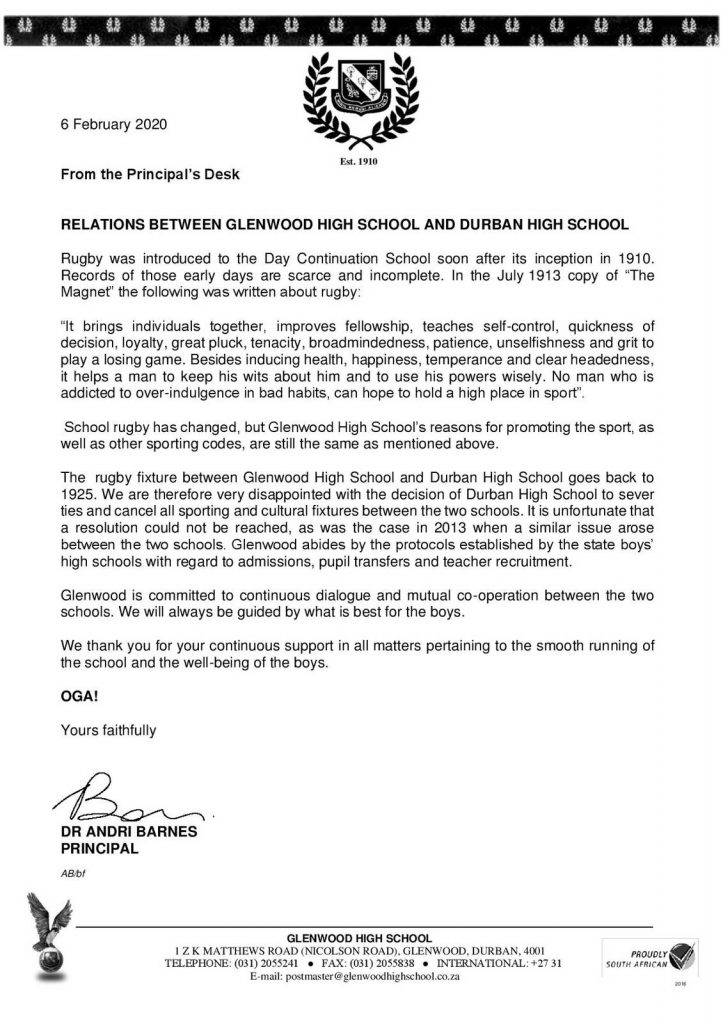 The hopes of starting a new decade with a clean slate are quickly evaporating in KZN.
Recruitment is again at the heart of a drama which threatens to see Durban High School (DHS) sever all sporting ties with Glenwood, their main rivals who are based just a few kilometres away in the next door residential area.
A meeting to be held between officials from both schools on Monday, 27 January 2020, might be the last hope of saving a situation, which at the moment is set to make the mainstream media headlines very soon.
If it was a clear-cut one-way move of sportsmen from DHS to Glenwood, one might understand the extreme measure that DHS is prepared to go to in order to protect their own interests – there is  evidence proving that if a school wasn't taking another seriously before, by cancelling sports events, an almost guarantee outcome is that the "perpetrators" would be all ears and a lot more cooperative from there on out. However shared information suggests that DHS have themselves benefited from acquiring useful Glenwood sportsmen this year; as have a couple of other local high schools.
How the powers that be at DHS are going to spin an expected school-parent or media release to create a compelling enough argument that they are in the right and acted in a non-hypocritical manner is going to be a focal point. For the court of public opinion to be as kind as it has to other schools who have taken the same course of action, the bulletproof wording of such a document may be vital.
Around the country, most fall-outs of this nature occur over talented school sportsmen moving between high schools. Although the DHS dispute with Glenwood does include this element, there is also a battle being waged over two 2019 primary school rugby players who chose Glenwood over DHS as the starting point of their high school careers this year.  Granted that Grade-8 recruiting of primary school students for standalone high schools is considered fair game in most regions, KZN has had complications with this, as evidenced by a bursary announcement cut-off date agreement between the main boys' private schools in the province.
In this particular DHS-Glenwood saga, the unhappiness over the two rugby talents seems to stem from DHS talent-scouting the two boys out of obscurity and then arranging funding for them to attend a geared up Durban primary school – Glenwood Prep.  Obviously the name Glenwood Prep seems to suggest a complication all of its own but this will be explained in paragraphs below.
Understandably nothing was really intended to be a charitable free of charge gesture so there had to have been some sort of agreement between the parents/guardians of the two boys and DHS, that in return for sponsoring their stay at Glenwood Prep, the two would enrol for Grade-8 and do their high schooling at DHS. DHS most likely would have communicated this to other interested schools. As it turned out the two via representatives were marketed to several other schools including Glenwood  who all showed great interest. When the boys joined Glenwood, DHS (their sponsor) had in a sense wasted that money and the presumed commitment made by the parents to DHS, formal or not, had been broken and no doubt there is strong feeling that Glenwood had a part to play.
On the flipside, this matter might spark a huge debate all on its own about the legitimacy and moral acceptability of such an arrangement between a high school and primary school students especially when it's not a "win-win" situation at the end of the day. For the record, DHS is not the only school engaged in this junior school sponsoring practice.
With regards to quantifying the talent of the two players in question, well they proved to be outstanding for the Sharks under-13 Craven Week team that lifted the unofficial title at the event in 2019.
The first official rugby match between DHS and Glenwood took place way back in 1920, meaning this year's match will be / would have been the 100th year of schoolboy rugby between the two Durban big guns. Translated: there will be huge pressure on whoever pulls the plug here to reconsider.
In terms of schoolboy rugby, Glenwood have reigned supreme in KZN in most years during the last decade or so. During this time they have also attracted a quite a bit of negative attention and having schools not want to play them isn't something new to them. Over time Glenwood has learned to tread a bit more carefully/smartly. Also in general there has been more acceptance of how Glenwood go about their business, which to be honest is not that different to a number of other top rugby schools around South Africa, many of whom who have perhaps benefited from being more discrete in how they conduct sensitive affairs. In a few KZN circles there has been appreciation for Glenwood's ambition, which has seen other local schools including DHS picking up the pace in an effort to keep up with the "Green Machine".
The "horseflies" of DHS went through a difficult time during a large part of the 2010's and there were even suggestions at one stage that they should be demoted to KZN's tier-2 because their results not up to standard. Through hard work, key appointments and large investment, 'School' made up a lot of lost ground, evidenced by the increasing number of teams they began fielding on any given Saturday. In more recent years they have tasted success, ending winless droughts against all the top rugby schools in the province in the process.
The battle for supremacy is not confined to the rugby field. There is a huge underlying need vital to the survival of both schools as good well-rounded education institutions and that is fees-payers. With government subsidising 50% of the school staff at set rates at best, collecting enough school fees on time can prove to be a make or break for a school in its attempts to pay all staff on pay day and keep up with the spending demands to meet the prerequisite of being branded as a top school. Where rugby fits in, is that the draws attention to a boy's school seemingly like no other event apart from the matric results announcement or a major negative outcome like the recent Parktown Boys' High drowning tragedy and the aftermath of that. So if rugby performance can be harnessed to portray a positive image of the school, it potentially helps achieve or surpass the budgeted financial targets and thereby aids to keep a school's nose pointing in the right direction. DHS and Glenwood are in competition in many of the same markets for the same fees-payers. If there was say a swing of 50 such students towards one school and away from the other, it could have huge financial consequences.
A long history of sporting rivalry between the two Durban schools has given rise to traditions including a couple of outstanding terms and war-cries reserved for each other and the big occasion of derby day.
When one Glenwood insider recently suggested that his school's boys only had to go a few hundred metres to Glenwood Prep to ring the bell on the eve of the big rugby derby, instead of a 3km crossing of Berea Road to ring the one at DHS as part of an age-old tradition, it sort of gave a good new insight into where a part of the problem between the two schools now lies.
Interestingly once upon a time, Glenwood was struggling to lay down a marker as a rugby school. Then Trevor Kershaw, a DHS old boy took over the leadership and as headmaster, amongst his bad deeds, inspired a change that lead to the Glenwood brand becoming known nationwide. Things were not too different for the nearby primary school, Parkview. The relatively unknown outside its district co-ed, had participated in rugby without much success before another DHS old boy Louis Arde became their headmaster. He motivated a school name change to Glenwood Prep in 2003 and Glenwood Prep became a force to be reckoned with in KZN primary school rugby. While Glenwood High are affectionately known the name "grasshoppers" due to their green school blazers, the new Glenwood Prep began to proudly sport the slogan: "home of the junior grasshoppers", painted on their walls for added effect. There seemed to be a good and heathy bond between the two schools. Helping relationship matters along was that at the high school, Kershaw's deputy headmaster Tony Pinheiro was also a rugby man of note, who coached the 1st XV rugby along the way and had to endure the negative publicity Glenwood's actions sometimes brought about.
Then fast forward several years from there and post the Kershaw era to 2017 when Arde is appointed as the DHS CEO of their Foundation at the start of the year, while Pinheiro is appointed the headmaster of DHS half way through the year. A number of Glenwood sport staff also defect to DHS soon afterwards. This really spiced things up in terms of rivalry both on and off the field. The once close alignment of Glenwood Prep to Glenwood High also seems to be shifting and the "home of the junior grasshopper" looks as if  it is in growing need of a caret with the insertion "and increasing number of horseflies" to be true to its current disposition.