Affies head into 2024 expecting to field a coming of age team that will set their sights on a top-3 national finish.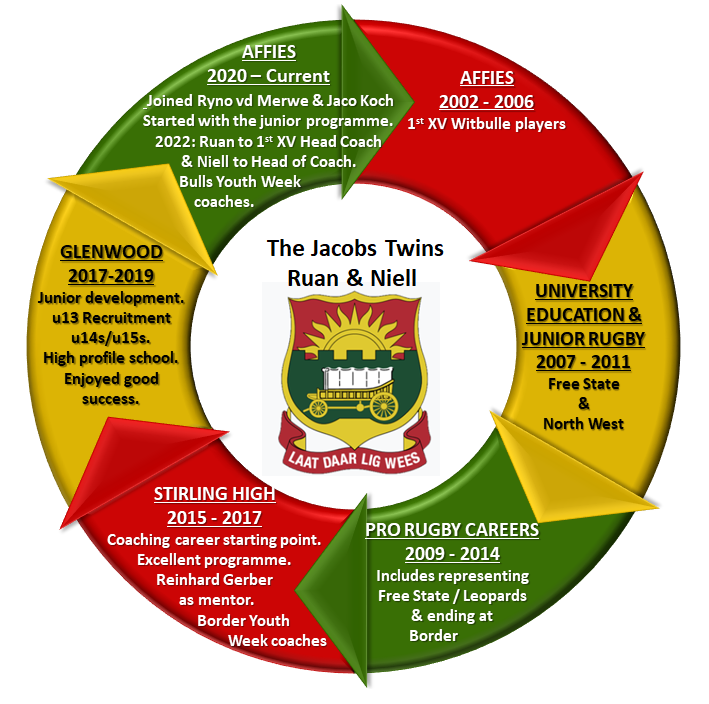 Jersey numbers 3,4,6,8,9,10,12,13,14 (9 players) were either permanent or did regular duty in the 2023 Witbulle 1st XV that definitely gained plenty of experience along the way and paid their dues, sometimes via hard lessons. Amongst them is the big SA Schools inside centre Janco Purchase, whose diverse skillset offers the playbook a range of options. This core team from 2023 is set to be joined by a handful of boys with double-digit 2nd XV caps and will no doubt be pushed hard for starting places by a few very talented u16's from 2023.
The team is expected to be tested thoroughly during the early part of 2024 in away matches at a more rugby-focused Diamandveld in Kimberley and top Noordvaal private Helpmekaar who always lift their game when playing Affies. However the mouthwatering prospect is without any shadow of a doubt, that first "test match" of the season against the big and equally talented top-3 contenders Paul Roos Gymnasium at Noord-Suid tournament, hosted by Affies.
The 2024 batch will also be the first to have started with the quickly rising coaching duo that are brothers Jacobs, twins who themselves represented the Affies 1st XV back in 2006.
With rugby guru Ryno van der Merwe taking on the arduous responsibilities of Head of Sport after the departure of Deon Botes to Paul Roos, a work load redistribution paved the way for Ruan and Niell Jacobs to move up from the juniors into very senior roles at number-1 Lynnwood Road, which separates Seunskool from Loftus.
The promotions completed a somewhat unconventional but nevertheless meteoric rise in schoolboy rugby, considering the Jacobs brothers only ended their respective pro rugby careers as recently as 2014, as well as the years of Covid that severely limited two school rugby seasons and stunted a lot of growth across the board.
Ruan has now completed his rookie season as the Affies 1st XV head coach where he teamed up with one of really good guys of school rugby, the loyal, standout coach Jaco Koch, a gentleman that all the Affies community can be extremely proud of. Both Ruan and Jaco are World Rugby (IRB) Level 3 candidates.
Niell's portfolio is that of Head of Coaching, an onerous task that will see him interacting with all Affies coaches over and above his own u16A coaching responsibilities.
The twins and Jaco are part of the Blue Bulls youth week coaching setup and for Ruan there is the added responsibility of serving as an SA Schools selector.
Ryno is likely to become one of, if not the most qualified u15A coach nationally, where he will team up with another rising star and former Witbul in the form of Hanco Deale.
After their rugby playing days ended at the Border Bulldogs in East London, the twins joined Stirling in the Eastern Cape. Here they paid tribute to Reinhard Gerber as a mentor of note, who assisted with their transition to coaching. There was also much praise for Stirling and the efforts the school's rugby programme makes as contribution to keeping SA rugby healthy. It proved to be a very good school environment to develop as coaches and hone skills while working with kids and interacting with parents. They were also involved at the Border Academy Week team in 2016 and 2017.
From Stirling, the brothers followed Reinhard to the very high profile Glenwood in KwaZulu-Natal. They were appointed as junior coaches, working with u14s and u15s and played a part in recruitment of Grade-7's for the all-boys high school. There were fond memories including some very good Saturdays along that journey.
The exposure that Glenwood offered soon caught the attention of Affies, who contacted the twins with a plan. For the high standards that AHS set for themselves, they were not in the best place rugby wise at that stage. The brothers came on board as junior coaches with the Affies junior teams performing very well. And now they have their focus set on emulating that success with the seniors.
2022 was a great year for Affierugby but their last national ranking top-3 finish was in 2016.
National Rankings 2010 – 2023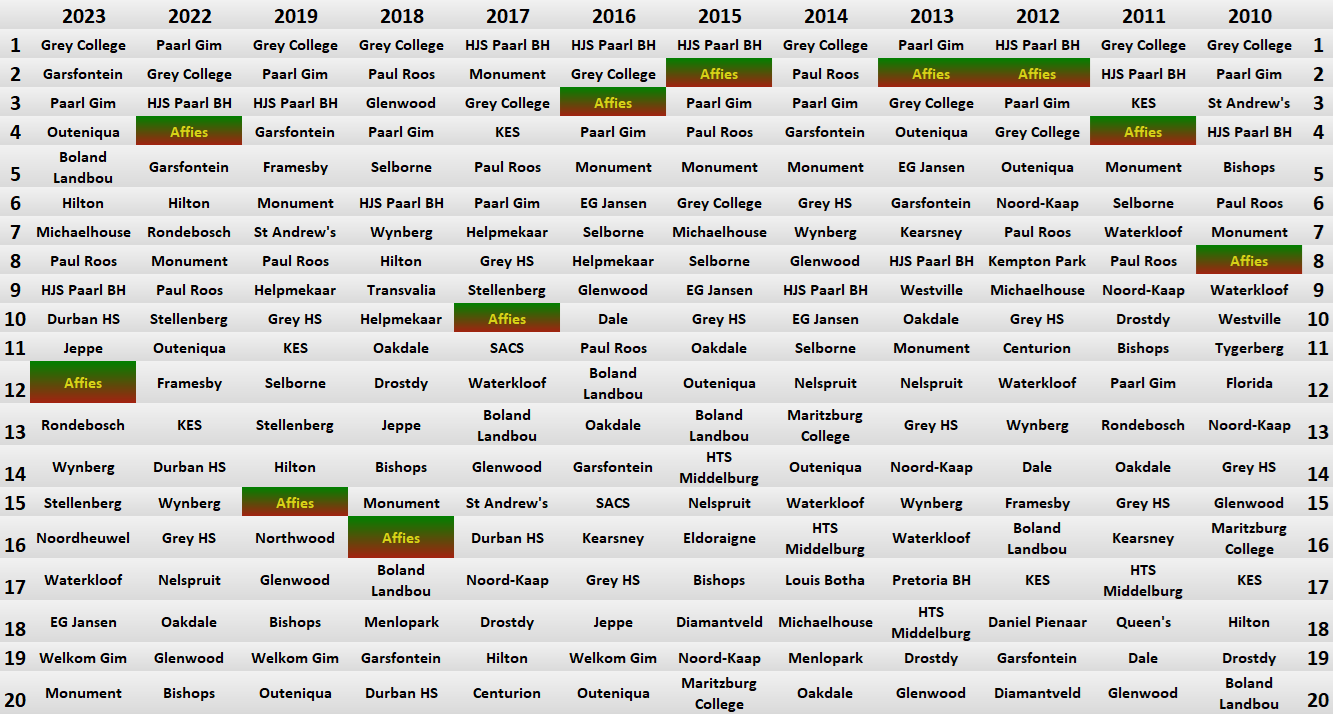 Affies Provisional Fixture List for 2024