In terms of records, this was obviously the wettest Kearsney Easter Rugby Festival.
In spite of the weather and unfortunate situations brought on by the floods in KwaZulu-Natal, the Thursday match-day was also the best attended day of all KERFs.
In line with the way rugby Laws are applied these days, KERF 2022 also resulted in the most cards ever awarded in the festival's history spanning over a decade.
Also in line with the changing face of professional rugby, the Sharks Academy no longer offered bursaries to three to four players. Contractual awards of this nature have now become extremely hard to come by. Instead The Sharks reverted to a new Player of the Day award, which as many know, really excited Dan Retief, a well-known sports writer.
The recipients of this year's awards were:
Day 1: Xander Schoeman (Monument #6)
Day 2: Burrie van Heerden (Marlow #8)
Day 3: Lilitha Matsiliza (Pretoria Boys' High #5)
Player of the Festival: Tiaan Jacobs (Selborne #7)
School of the Tournament: Durban High School
Team of the Festival: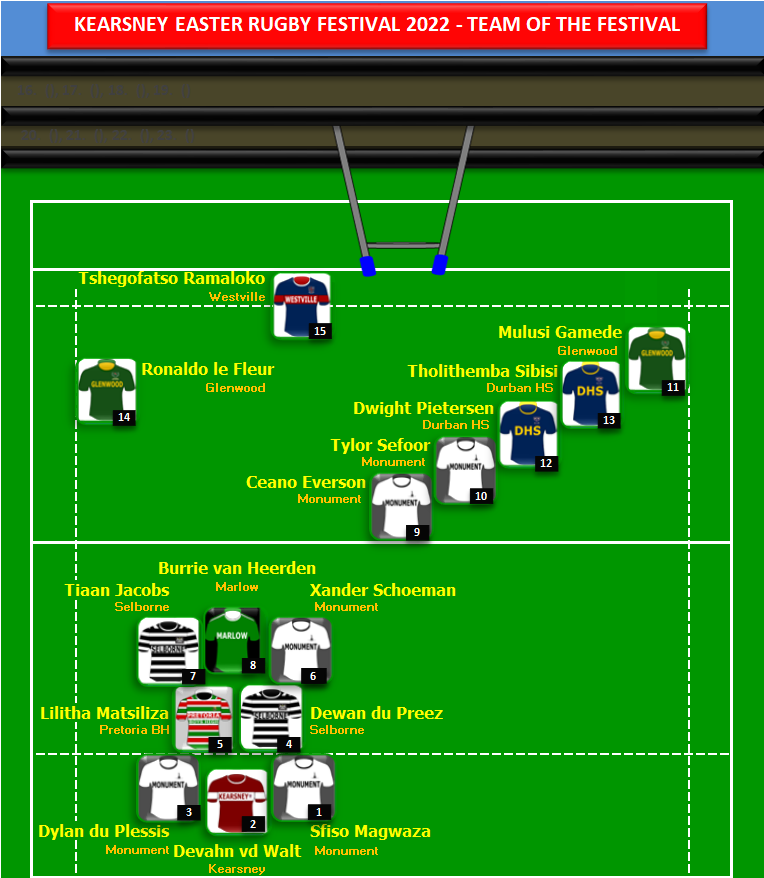 Selborne coach Chase Morison became the first head coach to have also played at KERF as a player, having represented the East London flagship in 2009/2010.