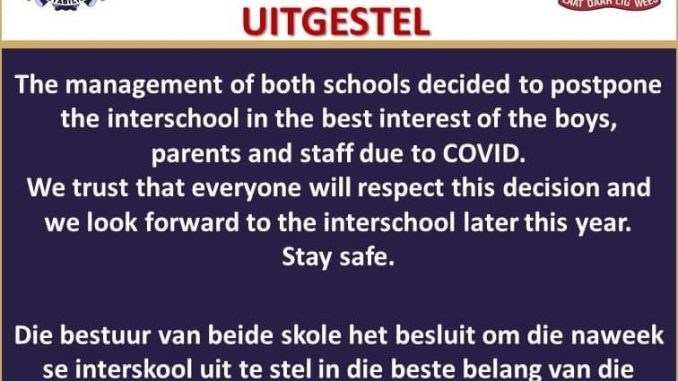 The Beeld newspaper warns of possible trouble for school sports in Gauteng in their Saturday 08 May edition.A number of Gauteng's prominent rugby schools were ruled out of action in recent weeks due to Covid outbreaks amongst their students and in some cases staff.
The article references the Chairperson of the Advisory Council on COVID-19 in Gauteng, who is concerned that school sport may be responsible for spreading the virus at an increasing rate. She mentions that not helping is that many kids are asymptomatic, so they carry the virus without being aware of it. It goes on to say that a big different to professional senior sport is the ability of the latter to create isolation bubbles, something that cannot be done at school level.
Although the chairperson is quoted as saying she cannot stop school sport, she does report to or liaise with departments of local government that do have a big say in what transpires.
A worst case scenario for school sports in Gauteng is the total suspension of all activities, possibly as early as this coming weekend.
An in-between measure might be the suspension of inter-provincial school sports. The Gauteng DBE has been quite strict in this regard. The schoolboy rugby known is the disallowing of rugby schools from the province to travel to Mpumalanga. This restriction might now extend to preventing schools from hosting out of province schools as well. That would mean a big inter-schools derby like that of Affies versus Grey College would be off (postponement date: Wed 12 May 2021).
Going forward, schools around the country may want to consider lobbying for regional bubbles, which would see them only playing a select number of other schools in close proximity to themselves, twice or more if need be, to complete a season. This kind of arrangement may only work for city schools though and would therefore be quite a blow to country schools.