Eight years on from 2012 when KwaZulu-Natal had a massive vetting process to rid their system of over-aged players, more of the same drastic measures are on the cards. This after an under-16 rugby player was discovered to be many years older than what was recorded on his falsified documents.
It is anticipated that both Glenwood High School and Maritzburg College will release statements on how the over-aged matter has impacted on them and there may be pressure on at least one primary school to do the same.
This is more or less the story details known at present:
It allegedly started when the SA School Administration and Management System* (SA-SAMS) alerted Maritzburg College that one of their students, an u15A rugby player in 2019, had registered as a duplicate candidate on the SA-SAMS system. This led to the uncovering of the boy young man's real age to be 19.
From there it's believed that the beans were spilt and others were incriminated as they all used the same corrupt source outside Pietermaritzburg to obtain fake documents.
The trail led to Glenwood who had just had to endure a high profile sports fixtures terminating fallout with DHS a few weeks ago, partly due to Glenwood's enrolling of two former star under-13 Craven Week 2019 winning players who as unknowns had been spotted by DHS scouts and then sponsored by DHS to attend local Durban primary school Glenwood Prep, where the  headmaster is the SA Schools Chairman Noel Ingle.
At the last KZN sports directors meeting, the private schools in particular had placed massive pressure on Glenwood to verify the ages of the two players who were participating in the under-14 age group this year.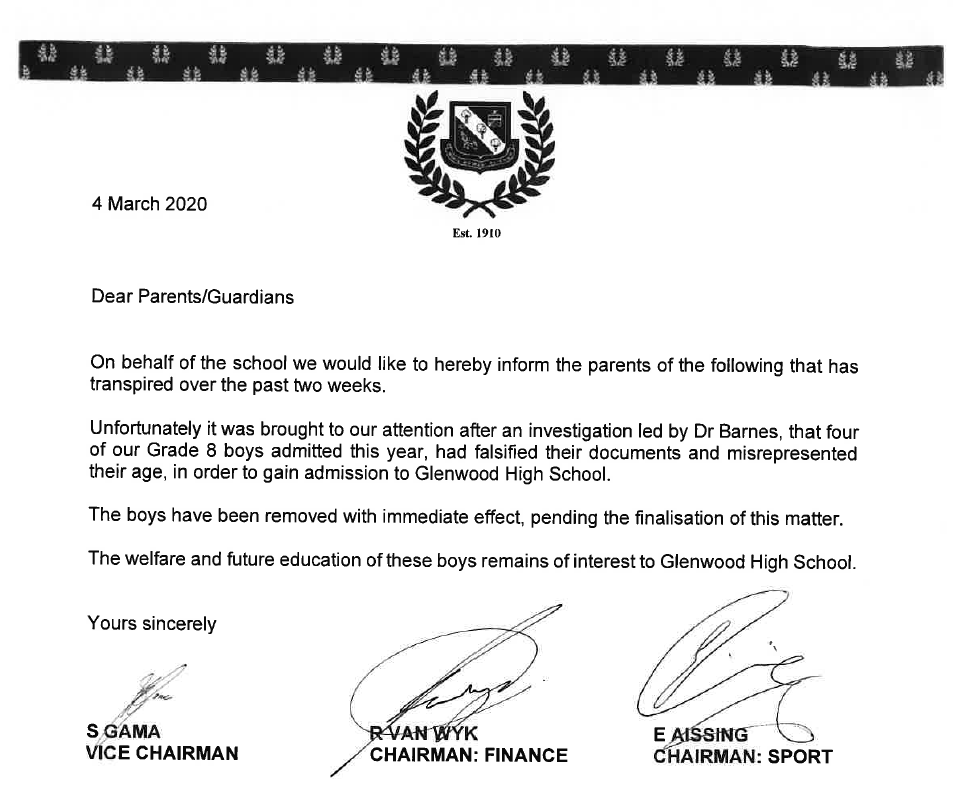 *SA School Administration and Management System:
is a robust, actively developed and maintained computer application, specifically designed to meet all School Administration, Management and Governance needs of South African Schools (Public, Specialised, Full-Service and Private). The solution has a strong EMIS focus to assist Schools, PEDs and DBE in record keeping, reporting and statistical analysis, by means of an innovative approach that allows end-users to shape the development of the solution itself. Data is collected on a National basis by means of LURITS (the Learner Unit Record Information and Tracking System), where it can be securely accessed for further analysis (Data Driven Districts) for effective decision-making on various levels.