KZN TEAMS
After the captivating Craven Week campaigns of 2017 and 2018 in which the KZN Sharks made back-to-back appearances in the unofficial final, thereby ending a drought of not appearing in the final since winning it in 1990 (List of Craven Week finalists) and simultaneously breaking a 10-year drought for not having won more than a single match out of three at the premier youth week, the hard times look set to return in 2019. The panel of ten selectors which includes successful head coach Jeremy McLaren who can receive advice from his assistants AC Blume and Dusty Noble, are really going to have to bring their A-game to the process to try and figure out what style they want to adopt and which players will be best suited to making up a competitive squad around this plan.
NO CORE TEAM IDENTIFIABLE
It will be taxing on the memory bank to recall when last KZN had a schools' season without an identifiable group of core players for Craven Week. These core players are usually the ones who pick themselves based on form in their respective positions and they generally perform at a level above rivals in these positions. There is a fair trials process to follow but anyone who knows anything about rugby knows these kinds of players generally never miss the boat and the rest of the squad is selected around them. In 2019 there are a number of useful players scattered around the top KZN school 1st XV's but good luck to anyone who ventures beyond the name Mark Armstrong as a must have for Craven Week 2019. Honestly there are so many permutations available and in just about every position it's hard to identify a clear-cut favourite. Even with Armstrong, there's a question-mark about whether he should be at no.8 where he's been brilliant this season or at openside flank which would improve his chances of SA Schools selection.
Obviously SARU's own SA Schools plans are never made public but they have been gracious enough to make their elite player list available for all to see (SARU List). You might not entirely agree with the process and it's hints of entitlement but one has to reasonably assume that SARU has earmarked certain players for possible higher honours and unions may be obliged to select these players for Craven Week irrespective of whether they should be in the under-18 A-team or not.
FIRST UP "GREYSTAAT" ON THEIR HOME GROUND
Sjoe! This will be a tall order!
Ever since the upping of quota, Free State have become very dependent on HTS Louis Botha, and every year in that same time period, the standard of rugby at HTS Louis Botha seems to drop a bit more. So Free State even got relegated to a non-mainstream Craven Week team at one stage (meaning they were not on the path to play in the final). Provincial under-18 teams that were drawn to play them at Craven Week, really fancied their changes of winning. Then in 2018 they did this: Click on link to: "Now it really is GreyStaat" It means the province that was once over-reliant on HTS Louis Botha, was for the first time able to turn to Grey College to supply virtually it's full Previously Disadvantaged target for under-16 Grant Khomo Week 2018. All those players are now being developed at the world class mighty Bloemfontein rugby factory situated at Jock Meiring Straat. It's the same venue that is hosting the under-18 Craven Week 2019. So potentially, lying in wait is a host team consisting primarily of one extremely good rugby playing school on their extra hard home ground, at 1395m above sea level.
Small inconsequential footnote – the winner of the KZN Sharks – Free State match gets to play Western Province.
Goodness Gracious! Who are we kidding! Western Province! That region that calls it a bad year when they don't clean-sweep the entire youth week process from under-13 to under-18 and won't even make an exception to the rule for LSEN Week.
KZN final trial teams for Wednesday 15 May at Woodburn Stadium in Pietermaritzburg
KZN main trial teams for Tuesday 07 May at Maritzburg College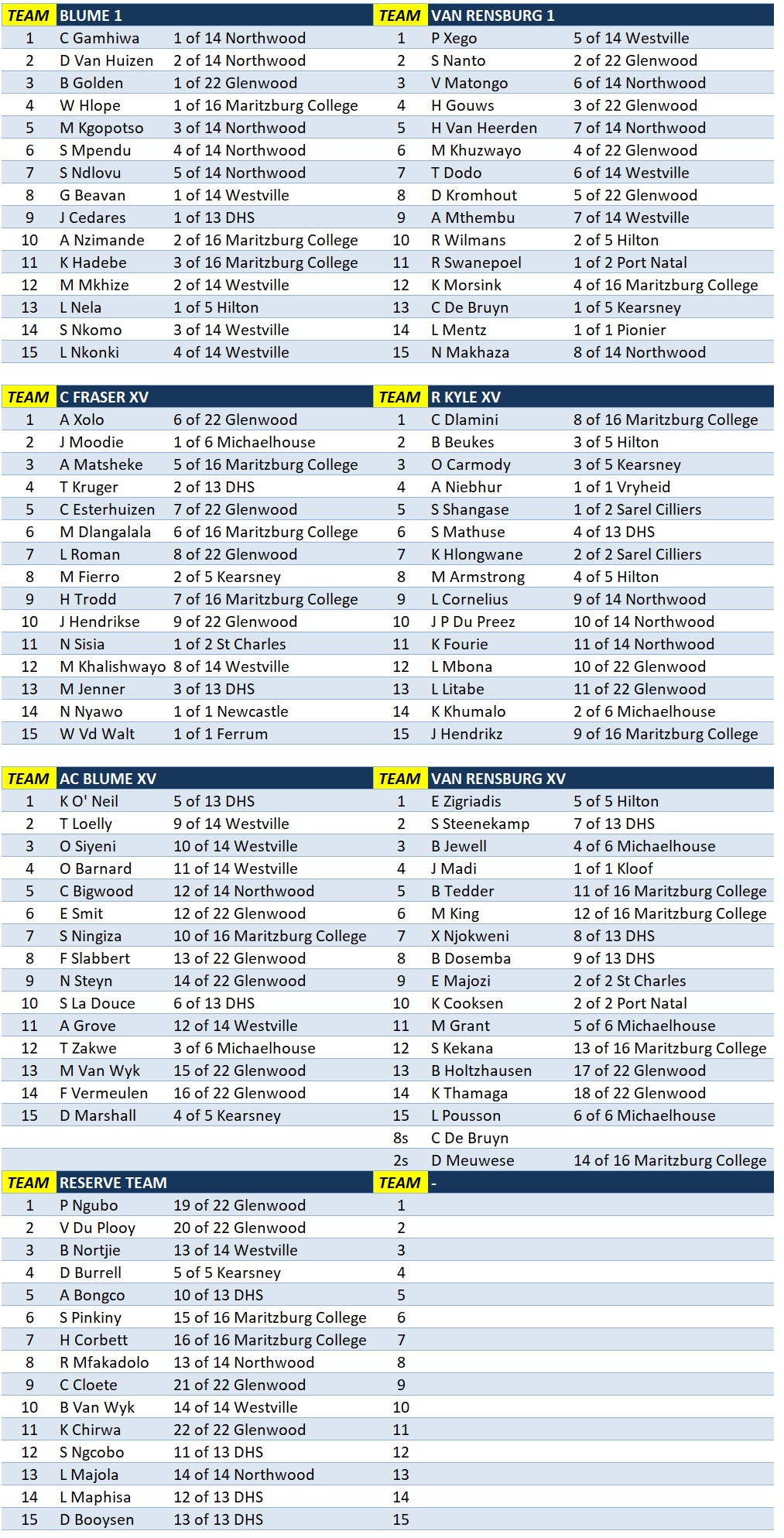 KZN GRANT KHOMO UNDER-16 FINAL TRIALS