Junior rugby (under-19 to under-21 levels) has had a bit of a facelift and now very few people in the industry are sure of what the right path will be for an aspiring rugby player once he leaves school.
SARU announced this week:-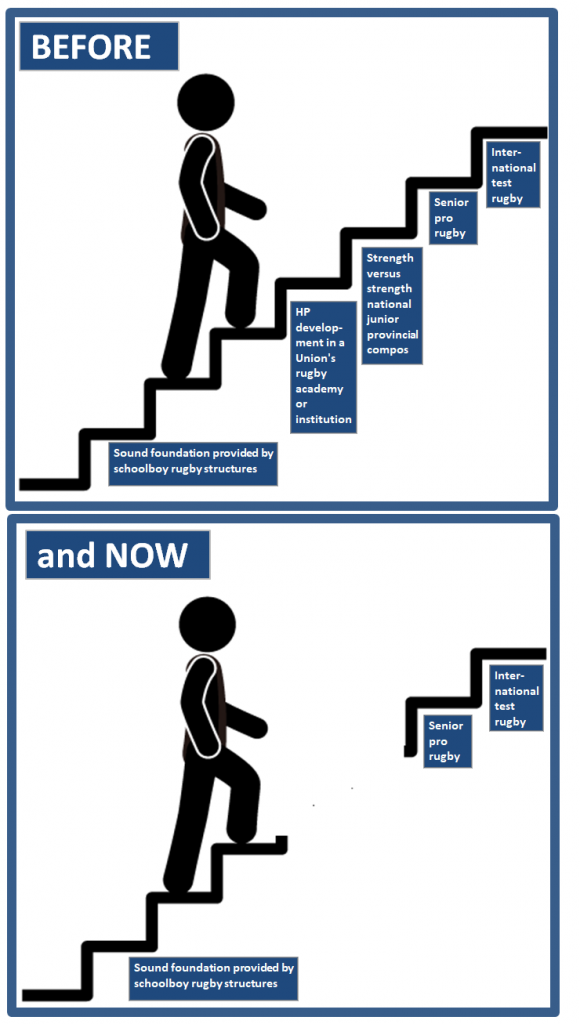 The only major change in the junior competition structures will see the SA Rugby U19 competition being converted into a compact one-week tournament comprising 16 teams – the 14 provincial unions, Limpopo and another team to be determined in due course – at a single venue.

In a new development, club players in their first year out of school will be eligible for selection in line with the competition's objective of unearthing new promising players who have not represented their provinces at school or junior provincial level.

The SA Rugby U21 Championships show slight changes – only six teams will play in the U21 competition (DHL WP, Toyota Free State, the Vodacom Blue Bulls, Xerox Golden Lions, Cell C Sharks and Leopards).

Eastern Province will take part in the U20 competition this year with the eight other teams – the Leopards, Tafel Lager Griquas, Down Touch Griffons, Valke, ISG Pumas, Limpopo, SWD and Boland.
The new under-19 rugby week is better than nothing but seems a bit iffy.
Up until 2018 there was a provincial under-19 championship which was played as a home and away rounds and stretched over several months before the final which served as a curtain-raiser for the senior Currie Cup final.
It wasn't just a competition. It helped shaped the junior rugby development structures in SA by giving the big unions a goal to work towards. As a result pro rugby in SA benefited tremendously as top prospects joined the unions mostly at the age of 18 after matriculating and worked their way up to the ranks. The whole structure represented a substantial but mainly worthwhile investment. It's something no top rugby nation can do without, nor is it something that can produce world class players if left to its own devices in the hopes that it will somehow achieve the desired objective.
However with the onset of financial difficulties that profession rugby in SA now faces, part of the cost-cutting reality resulted in the scrapping of the under-19 championship season and hence the introduction of this lick and promise under-19 week in 2019.
It's left the system in a place of great uncertainty. Word is that the major unions might hand out as few as 40 junior contracts for 2020.
40 is definitely better than nothing but its spreading the net really thin. One has to realise that although ages 18 to 22 is more predictable than trying to work out who will immerge as the  best from between ages 13  to 17, there is still a lots of room in the race to the top to overtake or be overtaken or even fall away completely.
The options that were once available to second choice school leavers are now being viewed as the prime opportunities even though little has been said or done to bolster these junior player development routes. This all at a time when the Springboks major opponents are constantly improving their own methods of identifying and training future top level players.
So what is the new path to the top? I guess we will have to wait and see.