Basically the same old format will be in play when Grey College hosts the under-18 Craven Week from 01-06 July 2019.

* The last two games on the first two match days serve as quarterfinals. 
* The winners of those four matches are then paired in two semi-finals that will be played on Wednesday and Thursday respectively. 
* From there the two winners meet in the televised final on Saturday.

The one interesting aspect for 2019 is that there is a reasonable chance that Western Province and their B-team, named the Western Province XV for the event, might meet in the final, which will be a first.
Come July 2019, Free State should be the odds-on favourites to beat the KZN Sharks* on Day 1. Barring a major upset by Boland in the other Monday quarterfinal, this should set up a Wednesday meeting between Province's A-team and the home team Free State. Under normal circumstances good money would be on Cape based team to win that semi-final match. However expect the affectionate term "Greystaat" to ring truer than ever before at this under-18 level. Bloemfontein's flagship school Grey College have averaged about 13 Craven Week players for a number of years now while HTS Louis Botha have normally made up the balance of the squad by providing all or most of the quota players required in terms of the youth week's strict policy. The reliance on Louis Botha for this purpose may soon come to an end. Grey made history when they proved all but one of the Free State's under-16 Grant Khomo team in 2018. So the direction things are moving in indicates that the number of Grey CW representatives will potentially soar above their average and reach a dizzy new record height – who knows it might even surpass the 20-player mark in 2019. It's still speculation at this stage, as there is a the lion's share of a season and a trial process still to come before the make-up of the Free State CW team is revealed. It will no doubt be interesting development in the lead up to the premier youth week. Cutting to the chase, it  suggests a serious cohesion benefit for Free State if it pans out this way. Most Craven Week teams are diversified in selection and generally lack adequate preparation time heading into Craven Week, which is generally a disadvantage shared across the board. So having a host team with the unity and understanding created through most of their players having played together for the same school for a number of years is a serious advantage.
On the other side of the draw (if it a draw), there are two prominent teams in the form of the Lions and the Bulls. The Bulls seem to be reliant on quality imports to make up their quota requirement but the depth chart in that department remains a concern. There really needs to be more emphasis on developing more homegrown "previously disadvantaged" players in Pretoria if they want to achieve more consistency at CW. They have struggled to live up to the expectations of their region in recent years, so it's become hard to define them as a legitimate contender for the title in 2019. Based on interprovincial trial matches in the June lead up to CW, expect the Bulls to have an edge on the cash-strapped and therefore usually undercooked Border outfit, unless it's another Selborne dominated Border team that like Free State can depend on one school unity to help overcome any lack of provincial warm-up game-time.
The Golden Lions Rugby Union comes across as the best run professional rugby body in SA in the last few years. Their attention to detail even seems to filter down to  their school structures. As a result no one should underestimate them. After winning it in 2017, they could well be back in the CW final in 2019. Their biggest obstacle is probably going to be the Western Province B-team in the quarterfinal match on Tuesday. One expects the Lions to be favourites heading into that match. Their mindset and form in games against the Province A-team during the last two CW's has been impressive. They might need that step up again against WP's B-boys who will be unpredictable and bound to contain the sort of firepower expected of a top contender at the tournament. The blue-hooped B team proved it 2018 and even it the argument was that they were on home soil with underfoot conditions that they and few others were accustomed to worked in their favour, there's no denying they had oomph in the pack and plenty of need for speed type players amongst the backs to get the job done on a much drier field at a bit of altitude.
Anyways here's a possible Craven Week 2019 outcome that a few SBR supporters living nearer Africa's most southern point have been saying is possible: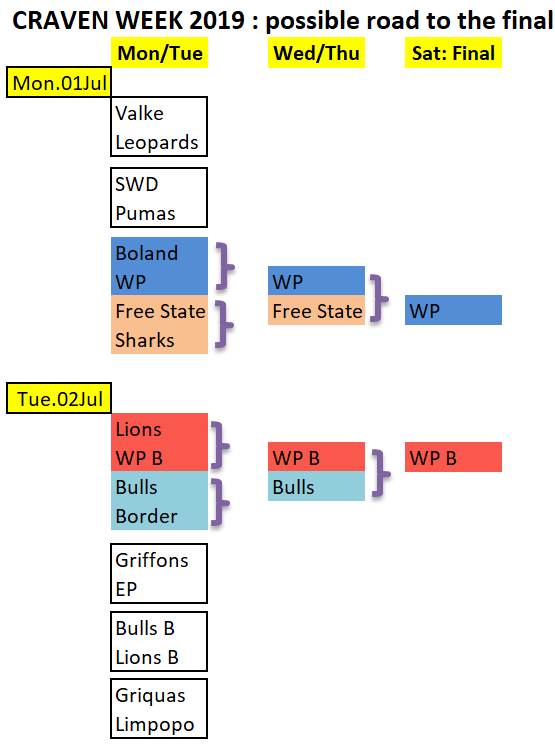 Worth noting is the recovery time disadvantage for the teams that play on Day 4. They only get Friday as a rest day, while those teams that played on Wednesday get ± double the recuperation time by not having matches on Thursday or Friday.
*more will be written about KZN's 2019 prospects in another blog.