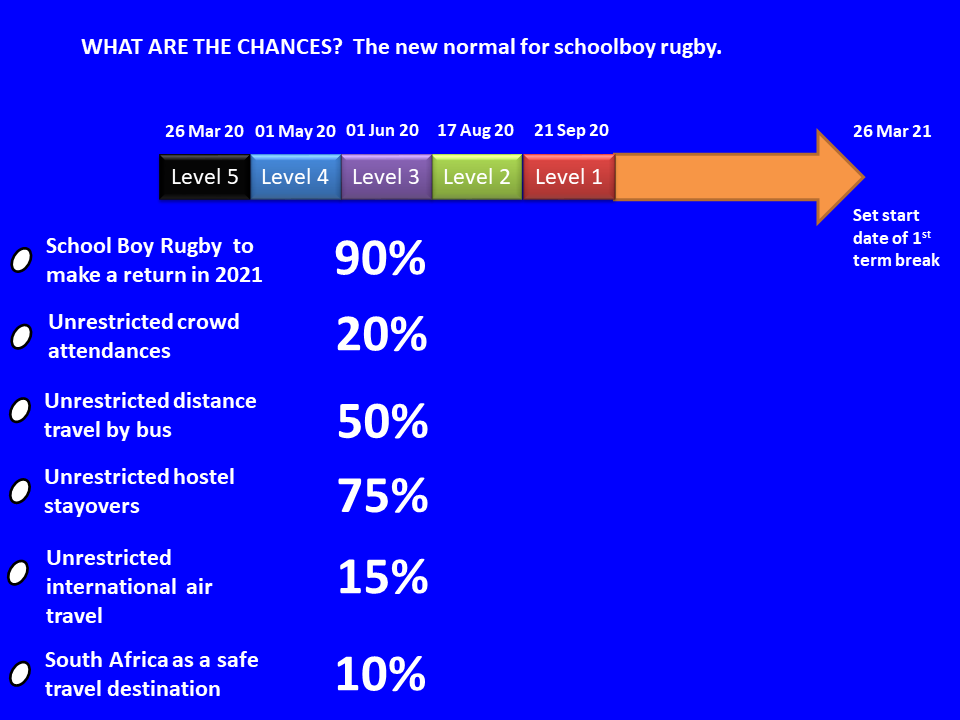 The effort to find lifestyle workarounds for Covid-19 continues and in South Africa the time has finally arrived for domestic pro rugby to make a long-awaited return in late September 2020 following a six-month shutdown.
In these times of health risk uncertain, nothing can be regarded as a sure thing. That said, based on this return of top flight rugby, there is a great deal of optimism that schoolboy rugby will be back in its usual calendar slot in 2021.
Currently schools follow a host of standard operating procedures to increase the safety of students and staff alike. Schoolboy rugby is bound to be subjected to equally strict pre-match and sideline protocols and maybe even on-field requirements. In other words do not expect normal services to resume. The measures in place in six-months time might make it a 1000 times better than the 2020 experience but could still leave plenty of people feeling very disappointed.
If the school calendar permits it, first term scheduled matches can be restructured to consist of matches involving schools in close proximity to one another. The real crunch time starts when the holidays come around.
For the 2021 first term end school holidays 2021 there are two things worth noting:
Easter comes early with the traditional Easter rugby festival weekend being from 01 – 05 April 2021.
It will be one of those school years when the main holiday incorporates Easter. In other words there will be no separate Easter holiday late in April (unless the Department of Education reschedules school term dates).
The bottom-line is this is building to be a very busy period on the schoolboy rugby calendar. Plenty of rugby teams travelling to venues in far way places and looking for accommodation. Many supporters from near and far, wanting to attend matches.
Crowd attendance carries a huge question-mark. Thinking you will be able to just randomly pitch up at a school and gain access to watch your favourite sport being played in the style you enjoy most may no longer be the order of the day. There is strong possibility that the school gates will be shut to non-essential personnel, that even schoolboys won't be able to fill the stands without appropriate distancing measures in place. Chances are marginally better that immediate family members and special guests might be part of a list of invitees but that sort of thing potentially adds to the match day headaches of having to control access and police the matter. A lot of school facilities are not geared towards strict access control in the same manner as a pro rugby stadiums are.
Schoolboy rugby is highly dependent on bus travel. Short distance and daily bus travel are pretty much sorted under the current lockdown regulations. There is no issue there at the moment. However loading a bus full of youngsters to make a long distance trip especially one across provincial borders is still something that is subject to restriction. Positive thinking has this changing during the next six months with the hopes of a worst case scenario staying at 70% bus loads. The not so good outlook is something that has always been costly to fund, stands a chance of becoming even more expensive. The worst case obviously being that cross provincial border reverts is not being permitted.
Boarding Establishments are currently pretty hectic in terms of the extra time and money that schools have to put in meet the accepted safety standard in living quarters and dining halls. The encouraging signs are that in trying times like this, one gets the opportunity to appreciate how well-organised and flexible most of the top schools in SA are. You kind of wish there were more things in South Africa that were this well run. The high degree of planning and execution by the leadership and staff suggests that hosting youngsters for festivals will be an equally smooth process.
No doubt air travel is in the high risk bracket due to how easy it remains for a virus to spread from person to person. That said domestic air travel continues on the path towards normalisation. For the record it was a form of transport for some of schoolboy rugby's elite in the past. With financial belts being tightened due to several Covid-19 related contributing factors, it might be a no-go on the new budgets of even the best funded rugby programmes in the nation.
International air travel and South Africa as an acceptable destination is included for the reason that an anticipated major highlight of next season is the Monument 100th birthday festival. This celebration is planning to include a host of overseas teams as part of its offering. The world is desperate for international travel to return in an effort to revive the airline and tourism industries. Six months from now the question will be one of justification. Based on the risk versus reward, will it realistic to expect the lifting a travel ban to a country, which continues to pose a high risk due to the sheer volume of Covid-19 cases?