Picture from Curro Durbanville Facebook page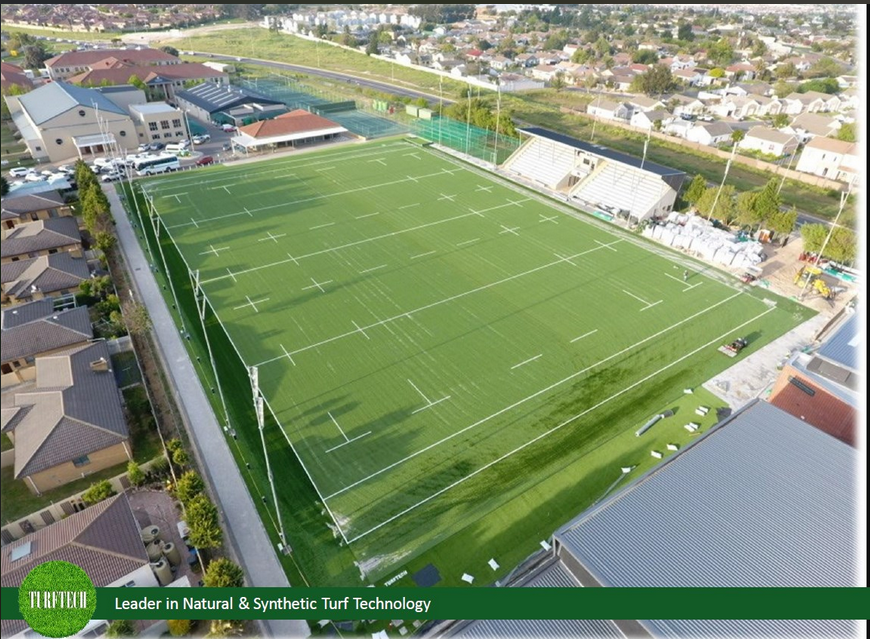 While neighbouring state schools Durbanville and Stellenberg have made attention grabbing strides in national schoolboy rugby in recent times, minnows Curro Durbanville is generating some rugby attention of their own with a brand new beautiful artificial rugby pitch.
In the UK great strides have been made to improve the quality of grass fields that were once muddy trenches during the wettest part of their year. Some of that technology will be on show at Paarl Boys' High's Brugstaat in the coming years, after they completed a sophisticated drainage system upgrade towards the end of 2019 that is set to do wonders for underfoot conditions after the heaviest of winter rains.
Synthetic / artificial / hybrid / 4G pitches are now part and parcel of the rugby experience at top European Clubs like Saracens in North London and Racing 92 in Western Paris.
The first thing one has to know about them is that they are not astro-turfs. They have a high degree of shock absorption and players can use boots with studs without damaging the surfaces.
Interestingly enough amongst the top tier Euro rugby clubs, pitches like these are regarded as cost savers, as the level of maintenance is nowhere near to that required to keep a grass field in tip-top shape. There are other benefits like being able to practice on them more often without damaging the surface and improved traction in wet weather.
Not all pro players are happy with the pitches though. The stress on the body is higher than grass, nasty grazes are constant threat and there are even cases where players feel they have to make technique stance adjustments to reduce the chances of injury, for example when scrumming.
For local schools, the high capital cost of installing an artificial field might not exceed the benefit. In the cases where first team rugby fields are used for other sports like cricket or athletics, it is impractical to make a switch. If fields of this kind are going to find a home, it's most likely going to be at Western Cape schools and primarily due to the high winter rainfall.
From the Curro Durbanville website:
Did you know: Curro Durbanville's new field is of a 'World Rugby' standard.
Our soon-to-be-completed rugby field is a British designed turf system which meets both World Rugby and FIFA top international standards. The design system holds player welfare in mind and meets the most stringent international World Rugby standards for synthetic rugby fields.

Often referred to as a 3G field, our rugby turf is made up of a number of key components, namely: the synthetic Rhino-Turf plus an infill mix of ballast material (silica sand) plus performance material (SBR Rubber crumb), which together with a suitable shock pad enables the system to meet stringent World Rugby standards.

Our new top-quality Turf-Tech synthetic sporting surface will provide a wonderful training ground for our learners.